Born on this day!! Actor Warren Berlinger ("Operation Petticoat," ″The Joey Bishop Show") is 83. Drummer Jerry Allison of Buddy Holly and the Crickets is 81. Singer Van Morrison is 75. Violinist Itzhak Perlman is 75. Guitarist Rudolf Schenker of Scorpions is 72. Actor Richard Gere is 71. Actor Stephen Henderson ("Fences," ″Manchester by the Sea") is 71. Singer Glenn Tilbrook of Squeeze is 63. Drummer Gina Schock of The Go-Go's is 63. Singer Tony DeFranco of The DeFranco Family is 61. Keyboardist Larry Waddell of Mint Condition is 57. Actor Jaime P. Gomez ("Nash Bridges") is 55. Guitarist Jeff Russo of Tonic is 51. Singer Deborah Gibson is 50. Bassist Greg Richling of The Wallflowers is 50. Actor Zack Ward ("A Christmas Story," ″Titus") is 50. Actor Chris Tucker ("Rush Hour") is 48. Actor Sara Ramirez ("Grey's Anatomy") is 45. Singer Tamara of Trina and Tamara is 43.
THIS DAY IN GENIUS HISTORY
1887 – Thomas Edison received a patent for his "Kinetoscope," and moving pictures were born.
1888 – Mary Ann Nicholls, considered to be Jack the Ripper's first victim, was found murdered in London.
1962 – Trinidad and Tobago gained independence from Great Britain.
1980 – Poland's Solidarity labor movement had its beginnings when an agreement ending a 17-day strike was signed in Gdansk.
1994 – Russia officially ended its military presence in the former East Germany and the Baltic states.
1997 – Princess Diana and her companion Dodi al-Fayed were killed in a car accident in Paris.
2012 – Armenia severed diplomatic relations with Hungary, after the pardoning of Ramil Safarov. In 2004, Safarov was convicted of killing an Armenian soldier.
Today Is: International Overdose Awareness Day, Love Litigating Lawyers Day, National Diatomaceous Earth Day, National Matchmaker Day
TODAY ON TV!
Primetime TV (All Times Eastern)
CBS – 8:00 – The Neighbor  /  8:30 – Young Sheldon  /  9:00 – Love Island  /  10:00 – Bull
NBC – 8:00  – American Ninja Warrior  /  10:00 – Dateline NBC
ABC – 8:00 – The Bachelor Greatest Season
FOX – 8:00 –  Love The Coopers
CW – 8:00 –  Whose Line  /  8:30 – Whose Line  /  9:00 – Penn and Teller Fool Us
TV Talk Shows
Jimmy Fallon: Mike Tyson, Adam Devine, Chronixx (R 7/27/20)
Seth Meyers: Seth Rogen, Gillian Jacobs, Thaddeus Dixon (R 8/5/20)
James Corden: Jamie Lee Curtis, JJ Redick, Alexander 23 (R 8/11/20)
Conan: Jason Sudeikis
The View: Mary Trump (R 7/23/20)
Live with Kelly and Ryan: Kristin Chenoweth, Marie Haycox (R)
Ellen DeGeneres: Kendall Jenner, cheerleaders from the docuseries "Cheer" (R 1/30/20)
Wendy Williams: Luenell (R 1/31/20)
The Real: Chris Harrison, Remy Ma & Papoose (R 4/27/20)
Kelly Clarkson: Tim McGraw, Kermit the Frog, Nicole Avant, Black Pumas
Tamron Hall: Meaghan Murphy, Joy Cho, David Rose
WHAT ARE YOU TALKIN' ABOUT? Here are today's PPM-Friendly Topics!
Chadwick Boseman, known for portraying barrier-breaking baseball player Jackie Robinson, music icon James Brown, and Marvel superhero T'Challa, a.k.a. Black Panther, has died of complications from colon cancer. He was 43.  His family confirmed the news in a statement posted to Twitter, revealing that Boseman was diagnosed with stage III colon cancer in 2016 and quietly battled it for years as it progressed to stage IV.  "A true fighter, Chadwick persevered through it all and brought you many of the films you have come to love so much," the statement said. "From Marshall to Da 5 Bloods, August Wilson's Ma Rainey's Black Bottom and several more, all were filmed during and between countless surgeries and chemotherapy."  The statement added, "It was the honor of his career to bring T'Challa to life in Black Panther. He died in his home, with his wife and family by his side."
*****If you saw his movie "21 Bridges," you HAD to notice how thin and gaunt he was. We were worried.. and we were right. Sad.
DID YOU KNOW: Denzel Washington paid Chadwick's tuition to the British American Drama Academy. Read his remarks on Boseman HERE!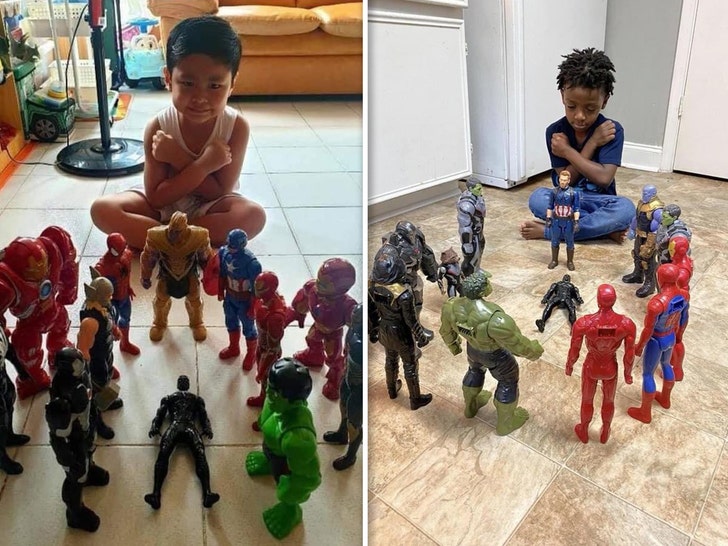 Prince William and Prince Harry joined forces in a rare statement pertaining to a statue meant to honor their mother, Princess Diana.  The statue, said their statement, was first "commissioned to mark the twentieth anniversary of her death and recognize her positive impact in the UK and around the world" in February 2017.  They revealed in the statement the new date in which the statue will appear in Kensington Palace, where Diana once lived.  "The statue will be installed in the Sunken Garden of Kensington Palace on 1st July 2021, marking The Princess's 60th birthday," the Duke of Cambridge and Duke of Sussex said.  They added: "The Princes hope that the statue will help all those who visit Kensington Palace to reflect on their mother's life and her legacy."  Prince William and Prince Harry released the statement on Friday, days before their mother's 23rd death anniversary.  "Our mother touched so many lives," they concluded.  The Princess of Wales passed away on Aug. 31, 1997, at age 36 from injuries she sustained in a Paris car crash.
********Note to Meghan: Stay out of tunnels in Paris! (too soon?)
******Will Charles attend?? No?? We didn't think so!!
*****If Elton John plays "Candle in the Wind," WE'LL tear the statue down!!
Sherri Shepherd said that Barbara Walters made her cry for years when they co-starred on "The View" together.  "Barbara was so hard on me. I cried for three years in my dressing room because she was so hard on me, but she did it out of love," Shepherd — who was a co-star on the longrunning ABC panel show between 2007 and 2014 — told People.  But apparently Walters told her: "I love you, I just need you to read a book, dear, and learn to defend what you believe. And speak up."  Shepherd said, "It was the most painful experience that I've ever gone through, but it was the best experience."
********She shouldn't feel bad… Barbara was legendary for making people cry!! (true)
*****Back in the day, there was always a moment in a Barbara Walters interview where she got under their skin and made them break down!!
TOPIC: Ever have a boss you hated, who you later realized had taught you more than anyone else??
Prince Harry said he wants to teach Archie how to play rugby in the garden of his $14 million mansion.  He joined a virtual call alongside staff and volunteers from the Rugby Football League from his $14 million mansion in Santa Barbara where he is currently living with Meghan Markle and son Archie.  In a clip released today from a video call with the organization to celebrate their 125th birthday, the royal was asked by Ellery Hanley MBE if he is enjoying life in the US, to which he said: 'Oh easy question. I am loving it. It's fantastic.'  Meanwhile Prince Harry joked it is 'impossible' to get hold of any rugby balls in the states, saying: 'What I need is a few mini rugby balls that I can get Archie involved with the game…I've got a little bit of space outside which we're fortunate enough to have,'  He said: 'I need to get him playing some rugby league, but I am unbelievably fortunate and grateful to have outdoor space and see my son outside as I know so many people haven't had that chance in the last five months.'  The Duke went on to add: 'Our little man is our number one priority and then our work is our second priority to play our part to make the world a better place.'
******All future kings must play rugby!!! (true?)
******It'll toughen him up so he can eliminate everyone who stands between him and the throne!!
*****When Harry talked about how much he loves America, you could see Meghan standing behind him with a gun pointed at his head! Coincidence?
*******Harry would give Archie one of his balls, but he doesn't have any!!
Disney is working on a second, live-action movie based on its popular theme park attraction, The Haunted Mansion.  Aladdin producers Dan Lin and Jonathan Eirich are set to produce it.  No casting has been announced yet.  Eddie Murphy starred in a 2003 comedy version of The Haunted Mansion.  The ride debuted in 1969 at California's Disneyland. It now delights visitors at Disney theme parks in Orlando and Tokyo, as well.  Disney previously turned its Pirates of the Caribbean ride into a blockbuster film franchise, starring Johnny Depp.  An adventure comedy led by Dwayne Johnson and based on the Jungle Cruise ride is set for release in 2021.
*******This Haunted Mansion is set in the White House!!
******In this version, the "Hitchhiking Ghosts" kill a family!!
******Maybe they should cast Whoopi Goldberg and Demi Moore?? They did a great job in "Ghost!!"
Leslie Hamilton, the twin sister of Terminator star Linda Hamilton, has died at age 63.  Her obituary said the New Jersey hospice nurse died "unexpectedly."  No cause of death was specified.  "Leslie was the consummate caretaker, and devoted her life to helping her children and the lives of others," the obit said. "She was an avid fisherwoman through the years, and was not shy about out-fishing anyone who joined her. Above all, she cherished the time spent with her family and friends, and will be deeply missed by those she leaves behind."  She served as her sister's body double in 1991's Terminator 2: Judgement Day.
*******Or…. did she??"
*******We just want to know: how many times did she pretend to be her sister??
Ripping The Tabloids (Throughout the week, we'll give you the stories from that weeks tabs!)
**Please Credit Publication!
Disick Done With Sofia-& Cozying Up To Kourtney!-(National Enquirer)
Reality slacker Scott Disick, 37, called it quits with Sofia Richie, 22, and is already publicly flirting with his ex Kourtney Kardashian!  When Kourt posted a sexy swimsuit shot captioned, "Lake ya" on Instagram on Aug. 17, Scott responded, "What a Lake er!"  This led to a stream of frenzied fan posting comments begging for his Kardashian comeback!
Pitch Perfect?  Sussexes Hawk a Hush-Hush H'Wood Deal!-(Globe)
Demanding Meghan is trying to secretly worm her way back into Tinseltown as a producer and wants to bring henpecked hubby Prince Harry along for the ride, sources snitch.t  According to entertainment insiders, the Duke and Duchess of Sussex have been quietly pitching a project in closed-door meetings with top Hollywood executives-including some of former actress Meghan's connections from her stint on "Suits."  However, tipsters say Meghan, 39, has no plans to appear before the camera.  Instead, sources dish, the couple want to be joint producers on their top-secret proposal.  The project is so hush-hush, spies can't reveal whether it's for a scripted or unscripted TV series-or something entirely different.  The news comes nearly four months after Meghan's panned post-wedding performance narrating the Disney+ documentary "Elephant."
Loose Talk-(Us Weekly)
"I always wondered why God gave me thunder thighs.  It's 'cause I'd use them."-On living her body, Pink.
"It's our job are parents to really ramp up the embarrassment."-On her primary role as mom to Ava, 20, Deacon 16, and Tennessee, 7, Reese Witherspoon.
"I look at [L.A.] real estate a lot and have never seen any of these people…..[and neither] have our agents, who I have obsessively asked."-On Selling Sunset's Realtors, Chrissy Teigen.
Brooklyn & Nicola:  Married & Expecting?-(Star)
Do Brooklyn Beckham and Nicola Peltz have news to share?  The couple announced their engagement in July, but Hollywood's buzzing that they've already quietly tied the knot-and are starting a family.  None other than Victoria Beckham sparked the speculation by sharing a photoa of her eldest son, 21, sporting a gold ring on that finger.  Then his 25-year-old fiancée fanned the flames by captioning a lovey-dovey pic on social media "baby b."  Though they're staying mum, a source says Brooklyn and Nicola still plan on having a proper ceremony and saying "I do in front of family and friends.  "They're gong ahead with an extravagant wedding in London," says the confidant.  "It'll be the party of the year."
Lady Gaga's Rocky Romance-(Life & Style)
Opposites attract, but for how long?  An insider says Lady Gaga and boyfriend Michael Polansky have hit a rough patch due to their drastically different personalities.  The Chromatica singer, 34, is a ball of energy," whereas the tech CEO, 42, "is more chill," shares the insider.  "Gaga gets bored very easily and wishes Michael would be more spontaneous."  Although there may be mounting reasons why the couple should probably call it quits, "Gaga and Michael are still in love and desperately want to make it work," the insider says.  "Hopefully, they can find a way to meet in the middle."
Split:  Gerard Butler & Morgan Brown-(People)
The actor, 50, and his real estate developer girlfriend, 43, have split after more than six years together.  First linked in 2014, the on-off pair were last spotted out together in July.
Story Time-(In Touch)
Aug. 16
"So, Daddy got this scar when he fought a huge, scary dinosaur [pointing to his wrist]," says Dwayne "The Rock" Johnson to his captivated daughters Jasmine and Tiana.
STUPID NEWS
In-Flight Simulator
A New York-based developer's new video game takes a new twist on the concept of a flight simulator by offering the realistic experience of taking a long commercial flight in economy class.  Airplane Mode, a game developed by Hosoji Auji for AMC Games, is billed as "the only flight simulation game where players can experience the intense excitement of being an economy class passenger on a long-haul flight."  The game allows player's to simulate the experience of taking a long flight in real-time, with available activities including rifling through an in-flight magazine, completing Sudoku puzzles, watching movies from the 1930s and looking out the window, which features realistic satellite imagery of the flight path. The players are also treated to experiences including in-flight meals, turbulence and WiFi outages.  "Crying baby not guaranteed on every flight," the game's description reads.  Auji told CNN that he discovered while developing the game that everyone he talked to seemed "to have a strong opinion about flying. And while there have been 30-plus years of flight simulation games, the passenger experience has never really been taken into account."  The game, which is expected to be released on PC and Mac computers this year, offers two flights: a six-hour trip from New York to Reykjavik, Iceland, and a 2.5-hour flight from New York to Halifax, Nova Scotia.
*******Prediction: this game will NOT crash the Apple Store!!
*****Will it make you stay in your seat when you're about to pee your pants??
******The object of the game is to NOT sit next to the guy who ate garlic last night!!
Flying Car Debuts
A Japanese company unveiled its prototype flying car to the public with a 4-minute test flight.  SkyDrive Inc. announced the successful test flight of its SD-03 flying car model at the Toyota Test Field in Toyota, Japan.  The single-seat flying car, billed as the world's smallest electric vertical takeoff and landing model, took flight for about 4 minutes.  The vehicle resembles a motorcycle with four attached propellers giving it the power of flight. The SD-03 is currently capable of maintaining flight for about 10 minutes, and the company is now aiming to expand that time to 30 minutes.  SkyDrive said it is aiming to have a commercially available version of the car completed by 2023. See the video HERE.
******It's not the flying that bothers us.. it's the falling!!
*****We won't be a "first adopter" on this one!! You go first!!
******If we get one, we want machine guns on it! Just in case!!
Get Paid To Live On A Tropical Island
Conservation officials in Australia announced they are seeking someone to take a full-time job living on a tropical island surrounded by the Great Barrier Reef.  Queensland's Great Barrier Reef Marine Park Authority announced it is seeking a caretaker for the "isolated tropical island" Low Isles, which is about 9 miles off the coast of Port Douglas, Queensland.  "The caretakers live in paradise on a tropical island surrounded by the Great Barrier Reef — but maintaining an island is hard work," said Mark Reed, the authority's assistant director of Reef Conservation Actions.  The position requires the winning candidate to live full-time on the island and complete duties including "maintaining buildings and infrastructure including the solar power system and sewerage treatment system, liaising with tourist operators, cleaning toilets, managing weeds, grounds works and counting bird populations." The authority is accepting applications through Sept. 25.
*******Wow! Talk about your "social distancing!!"
*****It would be weird if someone takes the job and gets COVID their first week!!
******We lived on an island one time and it wasn't that much fun!! Of course, the island was called "Manhattan!!"
Poop Soaked Phone
Sanitation workers cleaning out a vault toilet in the Flathead National Forest in Montana said they found a "poop-soaked phone" at the bottom of the toilet tank and were shocked to discover it still works.  Tracy Kau of A-1 Sanitation said he and his team were cleaning out the tank of the vault toilet near Holland Lake when he spotted the iPhone 11 Pro at the bottom.  "I was kind of in shock. I was like 'Whoa, there's a phone,'" Kau told KRTV. "We tried to not just suck it up or whatever, and then we went to get the grabbers. We have some grabbers that can grab like bottles and stuff, Cody grabbed it out."  Kau and his teammates, Cody Evert and Tanner Stevenson, sanitized the phone, plugged it in and were shocked to discover it still worked.  The team was finally able to get some identifying information by popping the device's SIM card into another phone.  They left a voicemail for the phone's owner, a Helena resident.  "When she finally called me back, I told her who I was, told her we found this phone in the Forest Service vault, and her initial reaction was, 'Well, you guys must have to pump out toilets because that's the last place I saw that phone,'" Stevenson said. "She was pretty shocked that we actually ended up retrieving the phone and that it worked enough to get her information off of it."
*******Of course, it had crappy reception!! (rimshot)
TOPIC: The worst place you ever dropped your phone!!!
STUFF THAT'S COOL AND VIRAL
VIDEO: RUSSIAN FIGHTER PASSES B-52 BOMBER!!
VIDEO: ANTI-MASKER GOES NUTS AT THE WALMART!
A LIST FOR MONDAY
7 Ways To Support Your Kid's Teachers In This Unprecedented School Year
Huffington Post
Be patient — so, so patient.
Nearly every educator HuffPost Parents spoke with emphasized one point above others: Be patient, be calm and be forgiving as teachers try to figure this — all of it — out.
"Things are rapidly changing," said Karen Malone, a special education teacher from Pennsylvania. "I don't know if parents understand just how fast things are changing — and for guidelines teachers have no control over."
Read everythingthat is sent to you.
"Check your emails and read them carefully," said L, a seventh grade teacher in Michigan who wished to remain anonymous because of concerns over repercussions at work.
"We know it is a lot," she continued.
"I mean, we are the ones writing all of the emails with checklists and reminders and bulleted points, so we get it," she added. "Things are changing constantly, so it is essential that parents stay current with what is happening at their child's school."
Teachers are going to be more strapped for time than ever this year, so they won't have time to keep repeating new information.
"We only have so much time in the day to put towards work, and we want to make sure we're getting the rest we need to boost our chances of staying healthy," said B, a pre-K teacher in Florida who also wished to remain anonymous.
Let your child's teacher know when something isn't working…
Again, so much of what is happening in schools and online this year remains new for teachers, so if something isn't working, they absolutely want parents to speak up.
"Open communication is so important," said Kelly Page-Iacovoni, an early childhood special education teacher from Michigan. "If I'm doing something that isn't working and nobody tells me, then I'm going to keep doing that." Teachers are willing to work with parents and families to adjust, now more than ever, she noted.
Of course, remember the goal is to be helpful, not hurtful.
"Teachers are internalizing a lot of the frustration parents are feeling as a personal attack on them, their profession and passion, and their caring," said Michelle Howell Smith, a Nebraska-based parent and educational researcher. So remember that most policies or changes are not in their control. And be kind.
"I've become much more aware of phrasing things in a positive way," said Howell Smith, whose own kids will be remote this year. "Instead of complaining that my son can never see his teachers," she offered as a hypothetical, "I might say to them: He really loves it when you make sure you're coming back into view frequently."
… And let them know when something is.
In more traditional years, teachers may have an easier time telling when something they're doing is really working for their students. This year, between the newness and the distance of remote learning in many cases, that's not necessarily true.
"If someone tells me something I've done worked really well for their child, that makes me feel good," said Page-Iacovoni. It also makes her more likely to build on that success, and try to replicate it.
One tip: It can be really helpful at the start of the year to ask your child's teacher how they prefer to connect. Some like short emails; others might like to hop on the phone. Knowing that ahead of time can make it easier to share feedback (good and bad) and communicate frequently in a way that works relatively well for you and them.
Practice mask-wearing — and other COVID-19 safety precautions — at home.
If your child is going back into the classroom in any capacity, help their teachers out by having them practice mask-wearing ahead of time, Page-Iacovoni said. If they won't be required to wear one, at least wear a mask around them yourself so they're used to seeing trusted adults in them. Also, teach them how to wash hands properly and for long enough. Talk to them about what social distance actually means.
Yes, teachers can and will help children learn all of this. But the more you can help your kids ahead of time, the more time instructors can spend actually teaching your children during the day rather than reminding them to put their masks back on.
"Thank you" goes a long, long way.
"Tears come to my eyes when I think of the things I see that little ones give to their teachers," said Lee Scott, chairwoman of the educational advisory board at The Goddard School, a private early education provider. "They think: OK, I'm in here. I'm nervous about this, but I love these children, I love what I'm doing, I love to see their bright faces. And wow, to be thanked for that is huge. It's probably more important now than it ever has been."
Write a quick thank-you note or email, she said. Have your kid make a card. Maybe give them a small gift card or care package — but it's not necessary. Just let them know you appreciate their hard work.
B, the pre-K teacher in Florida, said parents should be aware that while teachers are going to do their absolute best this year, their best may not be up to their usual personal standards. Be gentle with them. Know they're really trying.
"I'd love parents to know that they will want to modify the expectations they have for teachers this year," she urged. "My team and I were burned out before we even got to the first day. We had to figure out the COVID safety measures for our classrooms without district support down to the last detail, while having additional responsibilities put on us and facing the stress of teaching in an unsafe environment."
Get in the team mindset.
One way you can support your kid's teacher this year is to really, truly think of yourselves as a team — which should hopefully alleviate some of the pressure caregivers may be putting on themselves right now.
"A lot of parents say: 'I can't work and teach.' But we're not expecting you to teach. You might have to facilitate things, and you might have to get things started for your kids. But my job is to teach the children," said Page-Iacovoni, herself a mom of three. "I want them to realize they don't have the whole weight of the world on them. We are here to work together to do what is in the best interest of their child."
"Parents have been through it too, we know!" said Malone. "Teachers are so thankful for all that parents did in the spring to support their kids. We know we can't do this if we don't do it as a team. We're grateful to parents for jumping in and going that extra mile with us."
Also, get your kids in on the action!
"Encourage your children to communicate their needs and advocate for themselves," said Meghan Chateau Ciechanowski, an eighth grade teacher in Michigan. "Communicate your family's needs and when those needs change. We are not mind readers!"
Again, this year more than ever, we're all in it together.
The preceding material was compiled and edited by Brandon Castillo.  The Editor-In-Chief is Gary Bryan.  The Radio Genius Show Prep Service is licensed for use on-air only by subscribing radio stations.  Other means of redistribution is forbidden.
© 2020 – Radio Genius Show Prep