Born on this day!! Actor Virginia McKenna ("Born Free") is 90. Singer Tom Jones is 81. Talk show host Jenny Jones is 75. Actor Liam Neeson is 69. Actor Colleen Camp ("Die Hard: With A Vengeance") is 68. Actor William Forsythe is 66. Record producer L.A. Reid is 65. Latin pop singer Juan Luis Guerra is 64. Singer-guitarist Gordon Gano of Violent Femmes is 58. Drummer Eric Kretz of Stone Temple Pilots is 55. Guitarist Dave Navarro is 54. Actor Helen Baxendale (Emily on "Friends") is 51. Actor Karl Urban (2009′s "Star Trek") is 49. TV personality Bear Grylls ("Man Vs. Wild") is 47. Guitarist-keyboardist Eric Johnson of The Shins is 45. Actor Adrienne Frantz ("The Bold and the Beautiful," "The Young and the Restless") is 43. Comedian Bill Hader ("The Mindy Project," ″Saturday Night Live") is 43. Actor Anna Torv ("Fringe") is 42. Actor Larisa Oleynik ("3rd Rock From The Sun," ″Boy Meets World) is 40. Actor Michael Cera ("Juno," ″Arrested Development") is 33. Actor Shelley Buckner ("Summerland") is 32. Rapper Iggy Azalea is 31. Rapper Fetty Wap is 30. Model Emily Ratajkowski is 30.
THIS DAY IN GENIUS HISTORY
1494 – Spain and Portugal signed the Treaty of Tordesillas, which divided the New World between the two countries.
1654 – Louis XIV was crowned king of France.
1776 – Richard Henry Lee of Virginia introduced a resolution in the Continental Congress proposing a Declaration of Independence.
1892 – Homer Plessy was arrested for his refusal to move from a whites-only seat on a train. This led to the Plessy v. Ferguson Supreme Court decision.
1929 – Vatican City became a sovereign state.
1948 – President Eduard Bene? of Czechoslovakia resigned and the Communist takeover of the country was completed.
1967 – Dorothy Parker, American short story writer, poet, and critic, died.
2003 – Rev. V. Gene Robinson was elected the first openly gay bishop by New Hampshire Episcopalians.
Today Is: (Daniel) Boone Day, National Thank God It's Monday Day, VCR Day
TODAY ON TV!
Primetime TV (All Times Eastern)
CBS – 8:00 – The Neighborhood  /  8:30 – Bob Hearts Abishola  /  9:00 – NCIS New Orleans  /  10:00 – Bull
NBC – 8:00  – American Ninja Warrior   /  10:00 – Small Fortune
ABC – 8:00 – The Bachelorette /  10:00 – The Good Doctor
FOX – 8:00 –  Hell's Kitchen  /  9:00 – House Broken  / 9:30 – Duncanville
CW – 8:00 –  All American  /  9:00 – Penn and Tell Fool Us
TV Talk Shows
Stephen Colbert: Chris Matthews, Cynthia Erivo
Seth Meyers: Patrick Wilson, Quinta Brunson, Brendan Buckley
James Corden: Julianne Moore, Rufus Wainwright
Conan: Don Cheadle
Live with Kelly and Ryan: Katie Thurman, Anthony Ramos
Ellen DeGeneres: Ricky Martin, Crowded House
Drew Barrymore: Jenny Slate, Tom Green, Jake Borelli (R 12/2/20)
WHAT ARE YOU TALKIN' ABOUT? Here are today's PPM-Friendly Topics!
Apple TV+ is giving a glimpse of its Who Are You, Charlie Brown? special.  They shared a trailer for the new documentary Friday.  It will explore the legacy of the Peanuts comic strip and its creator, Charles M. Schulz. Schulz died at age 77 in February 2000.  The new special is narrated by Lupita Nyong'o and features interviews with Schulz's family and friends, along with fans of the comic strip, including Kevin Smith, Drew Barrymore and other stars.  Who Are You, Charlie Brown? honors Schulz and the lasting popularity and significance of Peanuts, which ran from 1950 to 2000.  The special hails from Imagine Documentaries. Brian Grazer and Ron Howard executive produce.  It premieres June 25 on Apple TV+.  See the trailer HERE.
*******The way things are going these days, they'll probably reveal that Schulz was a Klansman!!!
******Snoopy's original name was "Droopy," but he objected!!!
******Who got the idea for Lucy to torture Charlie Brown?? Because that's uncomfortably close to real life!!
Jeff and Lauren Lowe were allegedly driving under the influence on Saturday morning.  The "Tiger King" park owners were busted driving in Oklahoma City, Oklahoma when they were pulled over, as reported by TMZ. Though both of the Lowes were arrested for alleged DUI's, only Jeff had the additional charge of allegedly changing lanes improperly. This suggests that Jeff was behind the wheel at the time of the incident.  Both Mr. and Mrs. Lowe were brought into custody around 4am, the report claims. This arrest is just the latest in the Lowe's ongoing legal troubles.  Just last month, Lowe's wildlife park – formerly owned by Joe Exotic – was raided by feds, as also reported by TMZ. Approximately four dozen agents swarmed the Greater Wynnewood Exotic Animal Park and seized 68 animals, including, lions, tigers, jaguars and hybrids.  Jeff and Lauren have also been accused of breeding big cats to sell, but not reporting the births and distribution to the United States government.
********Maybe they can throw him the in the same cell as Joe Exotic!! THAT would be cozy!!!
****Ironically, they were driving a Jaguar at the time!!
******Seems like the entire "Tiger King" cast has been arrested, EXCEPT Carole Baskin.. and she's the one with the meat grinder!!!
After spending the night at Jennifer Lopez's Los Angeles home, Ben Affleck invited her to his place.  New photos show Lopez hopping out of the passenger's side of Affleck's Mercedes on his property. Photogs confirmed that Affleck drove, choosing to remain in his vehicle until the gate fully closed and he was out of sight.  The couple's apparent sleepover happened just one day after their cuddly Monday night date, so it seems their rekindled relationship — which they haven't yet confirmed themselves — is progressing nicely. Affleck and Lopez who reunited after she and fiancé Alex Rodriguez broke up, were spotted in LA after being holed up together in Miami last week.
********He wanted to show off the Bat Cave under his house!!!
*******Their new couple name is "Ben-Lo… done that!!!"
******When they have a sleepover.. who gets to be on top????


"I do!!!!"
Piers Morgan sat down with journalist Karl Stefanovic to discuss his ongoing feud with the Duchess of Sussex.  "I don't believe a word she says," said Morgan.  He pointed out at the Duke and Duchess of Sussex's tell-all with Oprah Winfrey in March in which Markle said that "three days before our wedding we got married."  Morgan is adamant Markle cannot be trusted.  "They were downright lies," he said about her statements. "That [ceremony] would make the archbishop of Canterbury a criminal."  Stefanovic branded Morgan "just an angry old man."  Stefanovic has previously defended the duchess, slamming Morgan for his ongoing attacks towards the couple.
********Piers may have the truth on his side… but that doesn't count for much these days!!
*****Meghan can simply tell Harry: "Go slap him in the face!!!"
Meghan Markle's due date is coming up on what would have been the late Prince Philip's 100th birthday, a report said on Saturday.  Markle and Prince Harry's second child, a girl, is expected to be born on Thursday, according to The Sun, citing a royal insider.  That day, June 10, would have been Harry's grandfather's birthday. The Duke of Edinburgh, Queen Elizabeth's longtime companied, died on April 9, before reaching the milestone.  The couple has remained tight-lipped on specifics about the upcoming birth, only saying that they were expecting a girl in the early summer.  She plans to give birth at the couple's California mansion.  They are reportedly considering naming the baby Pip, after Phillip, or Lily — a nod to the Queen's family nickname Lilibet.  The newborn baby will be ranked eighth in line to the British throne, behind older brother Archie.
*****This is what Yoko Ono did to John Lennon!! (true) She had Sean on John's birthday!! So smart!!
****No, we're not saying that Prince Phillip is the real father!! (or are we??)
*********This little girl has a long road to be Queen.. but it can be done!!
UPDATE!!! The baby came on Friday!!!
Prince Harry and his wife Meghan, the Duke and Duchess of Sussex, have welcomed their second child, a daughter named Lilibet Diana. The couple released a statement Sunday announcing their daughter's birth, who was born Friday at the Santa Barbara Cottage Hospital in Santa Barbara, California. Both she and Meghan are healthy and settling in at home.  "Lili is named after her great-grandmother, Her Majesty The Queen, whose family nickname is Lilibet," the statement said. "Her middle name, Diana, was chosen to honor her beloved late grandmother, The Princess of Wales."  Harry and Meghan already have a son, Archie, who just turned two last month. They announced Meghan was pregnant with Lili in February, months after the duchess opened up about had suffered a miscarriage in July in a New York Times op-ed.
Shanna Moakler's hate for the Kardashians can't be any clearer she cosigned a social media post disparaging Kim Kardashian. The post in question was uploaded by Instagram user @iamrichroyal, who shared a screenshot of Kardashian crying over her crumbling marriage to Kanye West from the latest episode of "Keeping Up With the Kardashians."  "I f–king hate her," captioned the user, with Moakler's verified account adding in the comment section, "You're not alone."  Moakler insists that her failed marriage to Travis Barker was due to an extramarital fling with Kim. Not to mention, she's accused Barker's current girlfriend Kourtney Kardashian of trying to "destroy her family" by turning children Landon, 17, and Alabama, 15, against her.  "My family's broken because of this family and now my kids and I are alienated from each other because of another sister in the family," she told TMZ. "So, yay for me."  "Thanks for destroying my family… twice" she added at the time.
*******"Bitter… party of one!!!!"
*******Shanna will be featured in that new show, "Krushed by the Kardashians!!!"
Ripping The Tabloids (Throughout the week, we'll give you the stories from that weeks tabs!)
**Please Credit Publication!
Beyonce Sends Beefcake to Charm School!-(National Enquirer)
Beyonce's bodyguards are under strict instructions to be nicer to celebs-ever since Seth Rogen spilled that they body-blocked him so hard backstage at the 2011 Grammys that his drink went flying!  "There has been a huge change in Beyonce's security in the last decade," snitched a source.  "Gone are the days of stars being followed around with people that look like the big genie from 'Aladdin!'"
Matt LeBlanc Gives Dad Bum's Rush!-(Globe)
Matt LeBlanc's estranged dad, Paul, says he and his sitcom star son are not "Friends"-claiming the actor has cut him off for nine years.  At one point, Matt, 53, star of "Friends" and now Netflix's "Man with a Plan," bought his dad a home in Colorado and paid him an allowance.  But that deal came crashing down in 2009, when they fought over money and a motorcycle Paul gave to a nephew, the father claims.  Now, he survives on "Social Security and savings" and Matt won't return his texts or calls, Paul says.  But Matt's spokesgal says:  "To put this in perspective, Matt's father abandoned Matt and his mother when he was an infant."  Now, Paul wants to "get together before it's too late," adding:  "You're going to miss me when I'm gone!"
Loose Talk-(Us Weekly)
"You can't just casually drop this on people."-On the confirmed Hocus Pocus sequel, Jonah Hill.
"I thought I was answering the questions that would bring me to Phoebe, you know?  Favorite color?  'Yellow!'  And it just said 'Rachel.'"-On the surprising result she got after taking a Friends character quiz, Lisa Kudrow.
"It sounds like a cat…It's hurting my ears."-Trolling Duchess Kate as she learned to DJ during a royal engagement, Prince William.
"I thought that maybe my wife and I could play 18 holes of golf.  On one hand, my wife hates golf, but on the other hand, I love it, and marriage is a compromise."-On how he plans to celebrate his upcoming 30th anniversary with Sheryl Berkoff, Rob Lowe.
Ariana:  I Wanna Be Cher!-(Star)
She's going to turn back time!  A day before her 75th birthday, Cher thrilled fans with a tweet announcing she's finally approved a biopic about herself.  The Oscar winner shared an impressive list of collaborators, including the producers of both Mamma Mia flicks and the screenwriter behind such films as Forrest Gump and A Star Is Born.  Not on her list:  Who will play the music legend, who shot to fame in the late 1960s with her husband Sonny Bono.  Ariana Grande has some thoughts!  Sources say the 27-year-old is itching to take on the part.  "Ariana first found fame as an actress," says an insider.  And, as anyone knows who's watched her near-perfect vocal imitations of singers from Celine Dion to Britney Spears, she can nail the singing.
Kanye Moving On?-(Life & Style)
In late May, claims emerged that Kanye West is pursuing Russian model Irina Shayk, 35, who split from actor Bradley Cooper, 46, in 2019.  "They have history," says an insider:  Irina appeared in Kanye's 2010 "Power" video and walked in his 2012 Paris Fashion Week show.  When Bradley heard whispers about the two connecting, "the first thing he thought about was their daughter," Lea, 4, shares the insider.  "He doesn't want Kanye and his entourage around her, but Irina laughed it off and said she's perfectly safe.  But she didn't deny they were dating."
Blair Underwood & Desiree DaCosta:  Divorcing-(People)
The actor, 56, and his wife, 58-who have three adult children-split after 27 years of marriage and "a tremendous amount of thought, prayer & work on ourselves," he announced in a statement May 30.
Loser of the Week-(In Touch)
Alex Rodriguez
He may be the only person in the world not excited about Bennifer 2.0 reuniting.
STUPID NEWS
Lottery Winner Drives Off With Gas Pump
A Michigan man said he was so stunned after winning a $1 million jackpot from a scratch-off lottery ticket that drove away from the gas station with the pump still hanging out of his tank.  The 59-year-old Genesee County man told Michigan Lottery officials that he bought a Winning Millions ticket from the Speedway station in Fenton and scratched it off while filling his car with gas.  "Winning Millions has been my favorite Lottery game since it came out," the man said. "I stopped at Speedway to get gas and decided to get a ticket while I was there. I started scratching the ticket while my gas was pumping.  "When I saw I'd matched the number 14 and then revealed the $1 million amount underneath, I started yelling: 'Are you kidding me?!'"  The man said his excitement at revealing the $1 million prize led to a gas pump faux pas.  "I was so excited, I forgot I was filling up with gas and drove away with the gas pump still in my car," the winner said.
********The cost of a new pump?? $900,000!!!!
******It's a good thing his butt is attached!! He might have forgotten THAT, too!!
******He should invest some of his winnings in Prevagen!!!!
Expensive Parking Spot
A parking space in an affluent Hong Kong neighborhood sold for $1.3 million — a new world record.  The parking space at the luxury Mount Nicholson residential project was sold by Wharf Holdings Ltd. and Nan Fung Group sold for a total $1.3 million to an unidentified buyer.  The price for the 134.5-square foot parking space amounts to about $9,500 per square foot.  The sum beat the previous world record for the most expensive parking spot: a $969,000 space sold at the 79-story Hong Kong office tower The Center in October 2019.
*******The spot was so expensive, they can only afford a 1986 Mustang II to park there!!
******After spending that much money on a parking spot, you'd be living in your car!!!
******If you spent $1.3 million on a parking space, and someone else parks in it, what would you do???
McNugget Shaped Like Video Game
A McDonald's Chicken McNugget that bears a resemblance to the player characters in popular video game Among Us sold on eBay for just short of $100,000.  The McNugget, listed by eBay user polizna, started at only 99 cents, but after 184 bids the item sold for $99,997.  The listing said the "Among Us shaped nugget" came from a McDonald's BTS meal, a combo meal inspired by K-pop band BTS. The seller promised the nugget would be delivered in edible condition.  "This food product has an average expiration of about 14 days and will be delivered prior to expiration," the listing states.  The eBay post caught the attention of the official Among Us account on Twitter, which shared a link to the auction. The post received a reply from the official Xbox account, which suggested the nugget should come with a packet of McDonald's Szechuan sauce.  "I have Szechuan and at buyers request will ship some with the nugget," polizna wrote in response to the suggestion.  See it HERE.
********This is proof that too many people are getting stimulus checks!!
******Our McNugget looked like Mother Mary!!! She was saying, "Don't eat this!! It'll kill you!!"
GPS Sends Driver Down A Golf Course
Police in Massachusetts said a man who drove his SUV onto a golf course and became stuck on the sixth hole told officers he had been led astray by his GPS app. The Newton Police Department said officers were called to the sixth hole of the Brae Burn County Club golf course about 5 a.m. Wednesday on a report of an SUV stuck in the grass.  The driver told police he had dropped some friends off at 2 a.m. and was following his Waze GPS, which led him onto the golf course. The man told police the darkness caused him to take a turn too wide and become stuck.  Police said the man did not appear to be intoxicated and is not facing any charges. The SUV was removed from its lodging and the golf course was determined to be undamaged.
TOPIC: "My GPS almost got me killed!!!!"
STUFF THAT'S COOL AND VIRAL
VIDEO: CRAZY SIMPLE CARD TRICKS!!
VIDEO: DEER CRASHES INTO HAIR SALON.
A LIST FOR MONDAY
These Are The Most Popular Dog Breeds In Every State
The folks at Honest Paws based the report on Google search trends over the course of 12 months.
They developed a list of 40 popular dog breeds across the seven major groups ― working, herding, hound, terrier, toy, sporting and non-sporting ― to see which got the most search interest in each state and the District of Columbia. Only 24 breeds had a first-place ranking in at least one state.
They also identified a "Best in Search" dog, aka the breed that ranked No. 1 in the highest number of states: the bulldog. Bulldogs were the most searched in California, Delaware, Florida, Georgia (perhaps unsurprisingly given that it is the mascot of the University of Georgia), Illinois, Iowa, Maryland, Nevada, Ohio and Texas.
Queen Elizabeth may find some kindred spirits in Oregon and North Dakota, where the royal's preferred breed, the corgi, was the most searched. And the often-misunderstood pit bull got some love in Arkansas.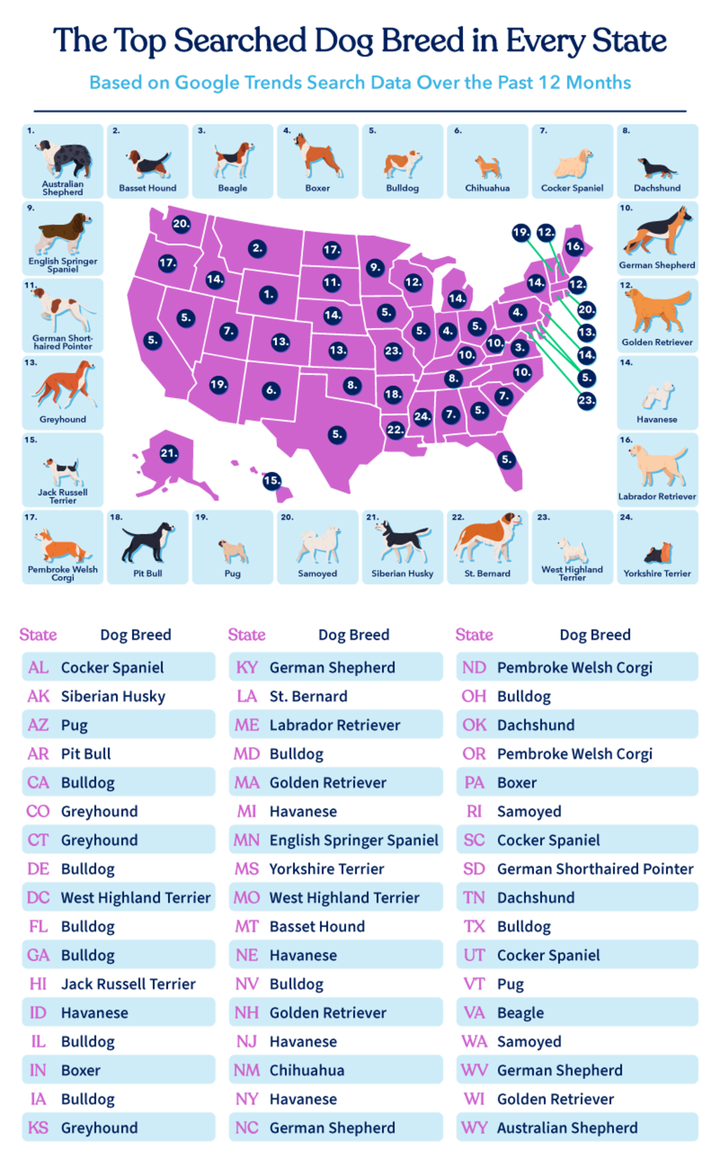 The preceding material was compiled and edited by Brandon Castillo.  The Editor-In-Chief is Gary Bryan.  The Radio Genius Show Prep Service is licensed for use on-air only by subscribing radio stations.  Other means of redistribution is forbidden.
© 2020 – Radio Genius Show Prep