Born on this day!! Comedian Mort Sahl is 93. Jazz musician Carla Bley is 84. Singer Eric Burdon (The Animals, War) is 79. Actress Pam Ferris ("Call the Midwife") is 72. Actress Shohreh Aghdashloo ("24″) is 68. Actress Frances Fisher ("Resurrection," ″Titanic") is 68. Actor Boyd Gaines is 67. Drummer Mark Herndon (Alabama) is 65. Former MTV VJ Martha Quinn is 61. Country singer Tim Raybon of The Raybon Brothers is 57. Actor Tim Blake Nelson ("Lincoln," ″O Brother, Where Art Thou?") is 56. Actor Jeffrey Donovan (TV's "Fargo") is 52. Bassist Keith West of Heartland is 52. Actor Nicky Katt ("Boston Public") is 50. Actor Coby Bell ("Third Watch") is 45. Cellist Perttu Kivilaakso of Apocalyptica is 42. Actor Austin O'Brien ("Last Action Hero") is 39. Actor Jonathan Jackson ("Nashville," ″Tuck Everlasting") is 38. Rapper Ace Hood is 32. Singer Prince Royce is 31. Actress Annabelle Attanasio ("Bull") is 27. Musician Howard Lawrence of Disclosure is 26.
THIS DAY IN GENIUS HISTORY
1858 – Minnesota became the 32nd state in the United States.
1894 – The Pullman Strike began.
1949 – Siam changed its name to Thailand.
1960 – Israeli agents captured Nazi Adolf Eichmann in Argentina.
1973 – Charges against Daniel Ellsberg for his role in the Pentagon Papers case were dismissed.
1981 – Reggae performer Bob Marley died of cancer in Miami at the age of 36.
1997 – IBM's supercomputer, Deep Blue defeated Garry Kasparov, the reigning world champion, in a six game chess match (2 for blue, 1 for Kasparov, and 3 ties).
1998 – India set off atomic blasts.
2003 – 91% of Lithuanian voters opted to join the European Union—the first former Soviet nation to do so.
Today Is: Eat What You Want Day, Hostess Cupcake Day, National Foam Rolling Day, National Women's Check-up Day, Root Canal Appreciation Day
TODAY ON TV!
Primetime TV (All Times Eastern)
CBS – 8:00 –  The Price Is Right  /  9:00 – The Neighborhood  /  9:30 – Bob (Hearts) Abishola  /  10:00 – Bull
NBC – 8:00  – The Voice  /  10:00 – Songland
ABC – 8:00 – The Bachelor: Listen To Your Heart  /  10:00 – The Baker and the Beauty
FOX – 8:00 –  911 /  9:00 – 911 Lone Star
CW – 8:00 –  Whose Line  /  8:30 – Whose Line  /  9:00 – Roswell New Mexico
TV Talk Shows
Jimmy Fallon: Seth MacFarlane, David Chang, Lady Antebellum
Stephen Colbert: Jake Tapper, Tame Impala
Seth Meyers: Tina Fey
James Corden: Nicholas Hoult, Lior Suchard, Sam Fischer
Lilly Singh: Terry Crews (R 4/1/20)
Watch What Happens Live: Dua Lipa, Lena Dunham
The Talk: Brandy, Bret Michaels
Live with Kelly and Ryan: Daniel Radcliffe, Melinda Macht-Greenberg
Ellen DeGeneres: Ellie Kemper, Dr. Jonathan LaPook
Wendy Williams: Michael Yo, Ashlee Glazer
The Real: Jay Ellis, Paula Bryant-Ellis, Lisa Vidal
Kelly Clarkson: A new Message From Montana, repeat segments with Jim Carrey, James Marsden, Ben Schwartz, Coyote Peterson (R 2/14/20)
Tamron Hall: Heroes of the Pandemic
WHAT ARE YOU TALKIN' ABOUT? Here are today's PPM-Friendly Topics!
Rock 'n' roll icon Little Richard died at his Tennessee home Saturday, his family announced. He was 87.  Danny Jones Penniman, Little Richard's son, confirmed his death to Rolling Stone.  His longtime guitarist, Charles Glenn, told TMZ he had been sick for about two months and was surrounded by his brother, sister and son when he died.  Born Richard Wayne Penniman, singer and piano player Little Richard was famous for his flashy fashion and a string of 1950s hit songs that included "TuttiFrutti," "Good Golly Miss Molly," "Long Tong Sally," "Rip It Up," "Jenny Jenny," "Keep A-Knockin" and "Lucille."  He was inducted into the Rock and Roll Hall of Fame in 1986 and received a Grammy Lifetime Achievement Award in 1993.
*****To say he was one of the greatest is an understatement!! 
*****Not only did he have his own brilliant style, he also helped James Brown get his start!!
PAUL MCCARTNEY: "From 'Tutti Frutti' to 'Long Tall Sally' to 'Good Golly, Miss Molly' to 'Lucille', Little Richard came screaming into my life when I was a teenager. I owe a lot of what I do to Little Richard and his style; and he knew it. He would say, 'I taught Paul everything he knows'."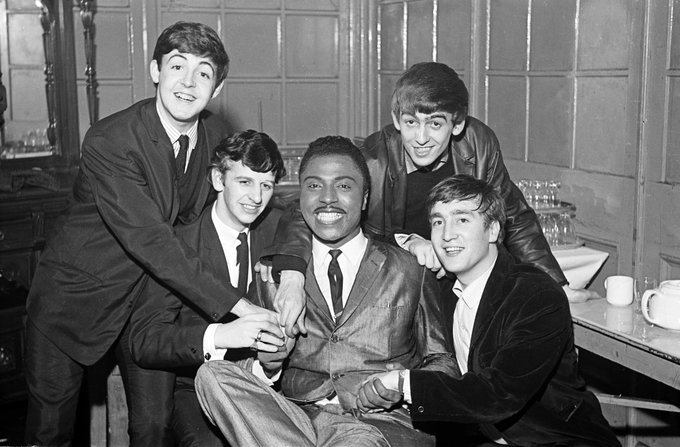 It appears as though Grimes and Elon Musk have different ways of pronouncing their baby's name.  They welcomed their first child together, naming their baby boy X Æ A-12. The unique name had many people wondering what it meant and, most importantly, how it was pronounced. Earlier this week, the technology entrepreneur explained how he pronounced his son's name. However, the singer shared a different version.  When a fan asked how to say her son's name in her latest Instagram post, Grimes wrote: "It's just X, like the letter X. Then A.I. Like how you said the letter A then I."  Musk, on his end, told Joe Rogan on his podcast that "it's just X, the letter x, and then the Æ is pronounced Ash."   He added that the "A-12," is an ode to the Archangel 12, the "precursor to SR-71, the coolest plane ever." So according to Musk, his son's name is X Ash Archangel Twelve.  Meanwhile, neither Grimes nor Musk have confirmed where she gave birth. As numerous media outlets have reported, if she gave birth in California the name will not be accepted by the state.   In California, you are only allowed to use the 26 letters in the alphabet for a baby name and an apostrophe if needed. Numbers, Roman numerals, emojis, accents or other symbols are not acceptable.
********He wanted him to be named "Tesla Model XY!!!"
*****We're thinking she gave birth on Mars!! 
*****The kid doesn't care what you call him… just don't call him late for dinner!!
A federal judge on Friday declined to dismiss charges filed against Lori Loughlin and 13 others in a national college admissions case based in Massachusetts.  U.S. District Judge Nathaniel Gorton refused the defendants' motion to drop the case on grounds that investigators mishandled the investigation. The motion also accused the government of failing to turn over evidence in the form of notes made by alleged scandal mastermind Rick Singer.  Among the 14 parents who sought the case dismissal was Loughlin's husband, fashion designer Mossimo Giannulli.  They're accused of paying more than $500,000 in bribes to secure their daughters' admissions to college as part of the so-called Varsity Blues scandal. The scheme allegedly involved some 50 parents, athletic coaches and others accused of orchestrating bribes to ensure admissions into prestigious universities.  They each face 50 years in prison and millions of dollars in fines if found guilty.
*******The judge said, "You got screwed by the government?? That happens to everybody!!"
****Lori gave USC $500,000… but she thought it was just for books and supplies!!
*******She dropped a bag of cash by the judge's podium and said, "Is that yours? I think it is!!"
Brian May sought medical treatment this week after injuring his buttocks while gardening.  He said in an Instagram post Wednesday that he is recovering after tearing his gluteus maximus muscle during a moment of "over-enthusiastic" gardening.  May has been absent from social media for the past few days and assured fans he hasn't fallen ill with the COVID-19 virus.  "No – the Virus didn't get me yet – thank God," he said. "Yes, I've been quiet. Reason? As well as getting over-stretched and harassed by too many demands… I managed to rip my Gluteus Maximus to shreds in a moment of over-enthusiastic gardening."  May said he visited a hospital for his injury and is now on bed rest at home.  "So suddenly I find myself in a hospital getting scanned to find out exactly how much I've actually damaged myself. Turns out I did a thorough job – this is a couple days ago – and I won't be able to walk for a while… or sleep, without a lot of assistance, because the pain is relentless," he said.  "So, folks… I need to go dark for a while, getting some complete rest, at home. Please, please don't send me sympathy – I just need some healing silence for a while. I'll be back – but I need the complete break. OK? Thanks," he added.
*******Dare we say it? "Another One Bites the Dust!!"
*****His doctor said, "Rectum? Damn near killed him!!"
*****His new song is called "Butt-hemian Rump-sody!!"
"The stories are all true!" said a former "Ellen DeGeneres Show" staffer of recent reports that she is one of the rudest people.  "Is she always nice? No," said the former staffer. "It irritates me that people think she's all sweetness and light and she gets away with it."  Lately, DeGeneres, who famously tells viewers to "be kind" at the end of her show, hasn't been getting away with it.  Over the past few weeks, DeGeneres has been criticized for comparing the coronavirus lockdown to "being in jail" even as she posts Instagram videos of herself in her $27 million Balinese-style mansion near Santa Barbara.  She was also accused, in a report leaked to Variety, of cutting her talk show's union show crew in favor of freelancers.  Then there's the Twitter thread branding her "one of the meanest people alive" for allegedly complaining about a waitress' nail polish and ordering that underlings not make eye contact with her.  And last week, a former security guard who served as bodyguard to DeGeneres and her family when the comedian was hosting the 2014 Academy Awards told Fox News that she was very unfriendly.
*******"We're shocked!!!" said nobody.
*****Portia DeRossi said, "You mean she treats EVERYONE that way??"
*****Rule of thumb in showbiz: NONE of these people are who you think they are!!
Kim Kardashian and husband Kanye West have reportedly had a rough time living together while in quarantine, and the pair now occupies "opposite ends of the house."  Sources told The Sun that the parents of four have been "at each other's throats" while in self-isolation.  "Kim is getting stir crazy, as she's used to being on the go. It's also a lot of time alone with the kids for her," a source claimed. "She is frustrated with Kanye and thinks he's not pulling his weight in family responsibilities. They've been staying at opposite ends of the house to keep things civil."  The report echos that of US Weekly's published just one week prior, which also claimed the superstar couple "have been arguing a lot during the quarantine" and that "Kanye is really getting on Kim's nerves."  The source added that "Kim finds it frustrating that [Kanye] doesn't ask her how he can help with the kids."
*****Isolation has been tough on the Kardashians!! (Viral pic!)

Katherine Schwarzenegger tried her hand at cutting husband Chris Pratt's hair while the pair are quarantining at home — and the resulting 'do got his stamp of approval.  Pratt posted pictures of his pregnant wife holding clippers and smiling wide before buzzing off his locks. "Here we go! Time to chop it off!," he wrote excitedly.  "Must admit! Pretty damn good work by my wifey," Pratt captioned the "after" picture.  Plenty of other celebrities are experimenting with their hair during quarantine — with mixed results.  Anderson Cooper wound up with a bald patch after buzzing his hair, while Bella Hadid successfully cut her own bangs. Meanwhile, Dua Lipa, Hilary Duff, Taraji P. Henson are trying out bright colors like pink, orange and blue, and Kelly Ripa and Hilarie Burton are embracing their grays.
*******When you hear the weed-whacker fire up, RUN!!!!!
Ripping The Tabloids (Throughout the week, we'll give you the stories from that weeks tabs!)
**Please Credit Publication!
Val's Potshot At "Top Gun"-(National Enquirer)
Val Kilmer claims he never wanted to play navy pilot Iceman in the '80s classic movie "Top Gun" and never managed to "break the ice" with its star, Tom Cruise!  "I didn't want the part.  I didn't care about the film," the star wrote in his memoir.  Val said he and Tom had wildly different approaches to filming in San Diego.  "Off set the actors broke into two camps-mine and Tom's," wrote Val, 60.  He said he was the leader of "the party boys," a gang that went out carousing every night, while "Tom refrained from our revelry for good reason.  From day one he was laser focused" on becoming an action hero.
Caterina Swaps Her Tot's Name!-(Globe)
Time to reorder the embroidery!  "Grey's Anatomy star" Caterina Scorsone's new bundle of joy was originally tagged Arwen at birth-a Welsh name meaning "fair" or "fine"-but the 38-year-old TV star reveals she changed her mind four months later.  "We went with what was her middle name.  Lucinda, "Lucky" for short," gushes the actress, who plays Amelia Shepherd on the long-running hit ABC medical drama and shares daughters Eliza, 7, and Paloma "Pippa," 3, with her TV writer husband, Rob Giles.  Fun fact:  Producers wrote Caterina's pregnancy into the show, culminating with her character-the sister of Patrick Dempsey's tragically killed-off Derek Shepherd (a.k.a. Dr. McDreamy)-giving birth on the season finale.
The Time of Their Lives-(Us Weekly)
Cody Simpson has had the best six months.  "Being with Miley [Cyrus] is a wonderful thing in my life," the Aussie, 23, recently said.  "I'm very, very happy," he says.  "We have a ball."
Halle's Secret Suitor-(Star)
Was the King of Pop the one who got away?  On April 20, producer Kenneth "Babyface" Edmunds revealed that Michael Jackson once asked him to set him up with Halle Berry.  "He said, 'Could you do me a favor?  I want you to call her, 'cause I wanna take her out on a date.'"  The 62-year-old, who didn't have the X-Men star's number, went on to say he reached out to her manager, but was coy about what happened next.  Now an insider can confirm that the rendezvous never happened.  "Halle was seeing someone else at the time and never even considered it," says the source.  Though she thought he was "a little offbeat," Halle, now 53, was "incredibly flattered that the singer of one of her all-time favorite songs, 'Billie Jean,' wanted to take her out."
Miranda's Marriage On the Rocks-(Life & Style)
"Mama's Broken Heart" was on full display when Miranda Lambert performed during the ACM Presents:  Our Country special on April 5.  "I've done a lot of healing, a lot of thinking right here," she confessed from her front porch.  "My husband was supposed to film this, but he's fishing at the pond."  The country music star, 36, is currently self-isolating with retired police officer Brendan McLoughlin, 28, at her farm in Tennessee-and instead of bringing them closer, all of the alone time has actually driven them further apart, a source says.  "Brendan feels trapped living in the sticks with Miranda," the source reveals.  "He's going stir-crazy.  He was enjoying the traveling and life on the road.  But now something is definitely up with them.  There's no telling how long their marriage will last under these conditions."
One Last Thing:  Donnie Wahlberg-(People)
The actor and singer, 50, stars in CBS's hit series Blue Bloods.
Last fashion disaster-
I wore some Alexander McQueen sneaker-boots to a Boston Celtics game.  We sat courtside, so we were on TV a lot.  During the game my son Elijah poked me and said, "Your shoes are getting killed on social media, Dad."
Last time I stayed up too late-
My wife, Jenny [McCarthy], and I get up really early to make breakfast for everyone and homeschool our son Evan.  We made a pact to get to sleep by midnight every night.  But of course at 1 a.m. the other night we were wide awake watching Tiger King.
Last romantic moment-
Jenny has been talking about how bad she feels because her roots are showing or she's wearing the same sweats for days.  So this morning, in the middle of her jokes, I walked over and kissed her.  I wanted her to know she's the most beautiful woman in the world-even in those ratty old sweats.
Rush of the Week-(In Touch)
Val Kilmer
"I couldn't wait to kiss Angie, buy her [a] Gulfstream jet and have V+J painted in rainbow glory on the tail."
-on working with Angelina Jolie in 2004's Alexander.
STUPID NEWS
Bear Goes To Closed Mall
A security guard at a Minnesota mall that's currently closed to the COVID-19 pandemic captured photos and video of his encounter with a bear that went window-shopping for pasta.  Ryan Carlson, a security guard at the Miller Hill Mall in Duluth, said he was patrolling the grounds in his vehicle around 3 a.m. when he spotted the bear peering trough the window of Noodles & Co., one of a few mall eateries still open during the day for delivery and curbside take-out service.  Carlson shared his photos with mall general manager Katie Kaz, who posted them to Facebook.  Kaz joked the bear was "Miller Hill Mall's new mascot" and nicknamed the bruin Noodles in honor of its apparent favorite restaurant.
*******The bear grabbed a Wetzel's Pretzel and a Mrs. Field's cookie and ran into the woods!!
*****Hopefully he'll come back!! They need the business!!
******Mall cops are lonely!! They haven't had a parking spot fight in months!!
Man Reunited With Lost Class Ring
A Utah man who lost his high school class ring in Germany in 1982 was reunited with the ring thanks to a man who found it on a beach in the United States.  Scott Sanders said he accidentally left his ring on top of a paper towel dispenser in Bitburg, Germany, in 1982, and he never expected to see the ring again.  Dan Thomander said he found the ring in the sand at a park in New Jersey or New York nearly 30 years ago. He said his father-in-law kept the ring in a safe for decades before giving it back to him and inspiring him to attempt to find its original owner.  Thomander said his online research revealed Sanders' high school had put all of their old yearbooks online, making it easy for him to determine the identity of the ring's owner. He searched for Sanders' current location and discovered he lives in Utah — only 5 miles from where Thomander's son lives.
******So… how did the ring get from the Germany to a beach in New Jersey?? Do rings float??
*****It washed ashore… attached to a body!

Postcard Arrives Over 30 Years Late
An Iowa man who received a postcard from his sister said he was surprised to note the card had been mailed in 1987.  Paul Willis, a hog farmer in Thornton, said a postcard appeared in his mailbox recently from his sister, Annie Lovell, and he soon noticed the card bore a picture of Lovell on a Grand Canyon hike in 1987 — and a San Francisco postmark from December of that same year.  Willis said the postcard bore a second postmark from April 29 of this year in Des Moines, so he called the post office to see if they had any explanation for the postcard's tardiness.  "She said, 'Well, the post offices are all going through deep cleaning because of COVID-19,' " Willis told the Santa Rosa Press-Democrat.  The employee said the postcard may have been discovered while furniture and machines were being moved for cleaning.
*******THAT makes ya feel good, doesn't it??
*****It was stashed in the back, under the ammo!!
*****Don't worry… when Jeff Bezos buys the post office, things will get a lot more efficient!!
Monkey Tries To Rob ATM
Police in India said officers suspecting thieves were behind the damage to an ATM in a bank kiosk reviewed security camera footage and discovered the machine had been partially disassembled by a curious monkey.  Delhi police said officers were summoned to the State Bank of India ATM kiosk in the South Avenue area Wednesday after the cash machine was found partially disassembled.  Police reviewed security camera footage, expecting to see the work of human thieves, but instead found video of a monkey removing the ATM's front panel.  The footage shows the monkey climbing into the machine and inspecting its inner workings before fleeing the scene.
*******People have been trying to rob these machines for years… and a MONKEY figures out how to do it??
STUFF THAT'S COOL AND VIRAL
VIDEO: CHICKEN SCREAM!
VIDEO: REAL SEALS PERFORM "KISS FROM A ROSE"
A LIST FOR MONDAY
What Not To Say To Someone Who Was Laid Off Or Furloughed Due To COVID-19
Huffington Post
"Why now? How did they tell you? Did they give you a severance package?"
"Asking people for details pertaining to loss of employment is a boundary breach," said Kristin Bianchi, a Maryland-based licensed psychologist at the Center for Anxiety and Behavior Change. "This is particularly true when the loss in question may be a source of shame to the individual."
Instead of prying for information, let the person decide how much they are willing to share with you before you ask. Asking less and listening more is the most respectful approach.
"While it's perfectly human to have questions, exercising restraint demonstrates that we prioritize their privacy over our curiosity," Bianchi told HuffPost.
If you are still employed, O'Malley added, a former colleague's job loss is also not your opportunity to gossip or complain to them about work.
"If the person who is supposed to be helping is complaining, that's an insensitivity," he said. "You are talking to somebody who likely wishes they had something."
"You're not alone. At least you're not the only one who is unemployed right now!"
When you tell your unemployed friend or colleague that they are not the only person unemployed during the pandemic, you are making broad assumptions about their specific experience.
Telling someone they are not alone "doesn't feel personal," said Lisa Orbé-Austin, a licensed psychologist and executive coach in New York. "Somebody might be laid off and they're OK, and for some people, it's devastating. It's not always OK. Not thinking about things from your perspective can be helpful."
"Think of all you have to be grateful for. Thank goodness it's not … "
Sometimes, people try to be supportive by comparing worse situations or pointing out the positive things in people's lives.
This kind of comparison can show up in language like "'But at least you've got this' or 'Thank goodness it's not that.' That's all well-intended," O'Malley said, "but it's invalidating, minimizing to the individual's story, because typically for many folks, this is loss and fear."
Many people have abject fear about how the pandemic will affect their finances, while others may be OK with finances but they're losing the meaning they get from work, O'Malley said.
"The rule of thumb is, don't try to fix. Listen more than talk," he said.
When you ask someone who is unemployed to stay positive, you are signaling that it's not OK for that person to be less than happy right now.
"Reminding people to count their blessings in the wake of any life-changing loss can make it seem as though we perceive them to be ungrateful," Bianchi said. "This has the potential to make them feel guilty and to question their character."
"When I lost my job…"
"While we may wish to show solidarity by sharing that we have an experience in common, this type of statement takes attention away from the person who has lost their job and puts them in a position of feeling as though they have to console us during their time of loss," Bianchi said.
"You're going to be fine. You're going to be OK."
People who want to be supportive may say, "You're going to be fine" to give their friend hope, but O'Malley said this is not helpful because it's a cliche that is not specific to the person's experience.
"What not to do is to assume that your role is to make somebody feel better about it," he said. "They're more likely to get there if you make the space [for them] to get through whatever is going on."
Instead of making uncertain promises, be more direct and specific in your acknowledgment of their feelings. O'Malley said if it is true to your relationship with the unemployed person, you can say something like, "I certainly have great confidence that you'll figure this out, but right now must be really scary. I certainly wish for you that you can get things back to the way they were before the pandemic, but let's just talk about right now."
The goal, O'Malley said, is to make sure your words of support aren't trying to spin or fix the problem.
Showing support to an unemployed person means staying present to their needs, not what you need.
Listen more than talk, and share advice only when asked. Accept that you may not be the person your unemployed colleague or friend wants to talk to about this. And if they do talk, listen ― don't offer your two cents about what they should do next.
"Don't consult unless you're clearly asked to consult," O'Malley said. "These are two very different forms of interaction: the listening, reflecting, supporting and holding and support versus the consulting, advising and directing. My opinion is that you never start with the latter. You only go to the latter if you're invited."
Acknowledgment is better than silence. Even if it's awkward to bring it up, O'Malley said engaging and attempting to connect about job loss is better than not acknowledging it happened. "Your better mistake if you're making a mistake is to engage … than not say anything at all," he said.
Share your professional contacts. If you feel comfortable doing so, you can offer to the other person, "If there's a contact you want me to reach out to, I would be more than happy to do so," Orbé-Austin said, adding that a letter of reference or LinkedIn recommendation are also helpful ways to show professional support.
Check in on them more than once. Don't see support as a one-and-done interaction, O'Malley said. See it as an ongoing process of engaging and connecting so that your unemployed friend or colleague feels supported.
If you're trying to be a good friend or colleague to someone going through job loss, "make yourself a note to check in on them once a month or every few weeks, just saying, 'Checking in. Want to see what's the same, what's different and how you're feeling about all of this,'" O'Malley said.
Team up with others to provide help. You and other supportive friends and colleagues can send a letter or card, deliver a favorite meal or give a gift card, Bianchi said. If you're giving a gift card, "consider using anonymity if you sense that although the contribution is needed, knowledge of the sender might be injurious to [their] pride," she said.
If the unemployed person has disclosed their need for help publicly, you can "team up with other members of their social network to provide them with various types of support," Bianchi added. "This may involve crowdfunding, meal trains and many other types of assistance with the logistics of staying afloat in the absence of an income."
The preceding material was compiled and edited by Brandon Castillo.  The Editor-In-Chief is Gary Bryan.  The Radio Genius Show Prep Service is licensed for use on-air only by subscribing radio stations.  Other means of redistribution is forbidden.
© 2020 – Radio Genius Show Prep