Born on this day!! Actor Barbara Bain (TV's "Mission: Impossible") is 90. Actor Eileen Fulton ("As The World Turns") is 88. Actor Joe E. Tata ("Beverly Hills, 90210," ″The Rockford Files") is 85. Singer David Clayton–Thomas of Blood, Sweat and Tears is 80. Singer Peter Cetera (Chicago) is 77. Actor Jacqueline Bisset is 77. Actor Christine Estabrook ("Desperate Housewives") is 71. Actor Jean Smart is 70. Singer Randy Jones of the Village People is 69. Record producer-musician Don Was is 69. Actor Isiah Whitlock Jr. ("The Wire," "BlacKkKlansman") is 67. Actor Geri Jewell ("The Facts of Life," ″Deadwood") is 65. Country singer Bobbie Cryner is 60. Singer-guitarist Dave Mustaine of Megadeth is 60. Radio and TV personality Tavis Smiley is 57. Comedian Jeff Ross ("Sneaky Pete") is 56. Actor Louis Mandylor ("My Big Fat Greek Wedding") is 55. Drummer Steve Perkins of Porno for Pyros and Jane's Addiction is 54. Actor Roger Howarth ("General Hospital," "One Life to Live") is 53. Actor Dominic Fumusa ("Nurse Jackie") is 52. Actor Louise Lombard ("CSI") is 51. Guitarist Joe Don Rooney of Rascal Flatts is 46. Singer Fiona Apple is 44. Guitarist Hector Cervantes of Casting Crowns is 41. Actor Ben Savage ("Boy Meets World") is 41. Singer Niall Horan, who got his start in One Direction, is 28. Actor Mitch Holleman ("Reba") is 26. Actor Lili Reinhart ("Riverdale") is 25.
THIS DAY IN GENIUS HISTORY
1943 – Chiang Kai-Shek became president of China.
1948 – Republican Margaret Chase Smith of Maine was elected to the U.S. Senate, becoming the first woman to have served in both houses of Congress.
1971 – The four-day revolt at the maximum security prison in Attica, New York, ended when state police and National Guardsmen stormed the facility. Forty-two people died.
1993 – Israeli Prime Minister Yitzhak Rabin and PLO Chairman Yasir Arafat shook hands after signing an historic peace agreement.
Today Is: International Chocolate Day, International Programmers Day, Kids Take Over The Kitchen Day, National Boss/Employee Exchange Day, National Celiac Awareness Day, National Peanut Day, Roald Dahl Day, Scooby-Doo Day, Uncle Sam Day
TODAY ON TV!
Primetime TV (All Times Eastern)
CBS – 8:00 – The Neighborhood  /  8:30 – Bob Hearts Abishola  /  9:00 – NCIS  /  10:00 – NCIS Los Angeles
NBC – 8:00  – American Ninja Warrior  /  10:00 – The Wall
ABC – 8:00 – Monday Night Football
FOX – 8:00 –  Hell's Kitchen
CW – 8:00 –  Roswell New Mexico  /  9:00 – Penn and Teller Fool Us
TV Talk Shows
Jimmy Kimmel: Jennifer Aniston, Dave "Lil Dicky" Burd, Bazzi
Jimmy Fallon: Andrew Garfield, Patton Oswalt, a performance from "Little Shop of Horrors"
Stephen Colbert: Jeff Daniels, Nate Burleson
Seth Meyers: Sarah Paulson, Machine Gun Kelly, José Medeles
James Corden: Drew Barrymore, Mary Elizabeth Winstead
Watch What Happens Live: Jerry O'Connell, Delaney Evans
The View: Wendy Williams, guest co-host Mary Katharine Ham
Live with Kelly and Ryan: Gabrielle Union, Anastasia Pagonis, Vallery Lomas
Ellen DeGeneres: Jimmy Kimmel
Wendy Williams: Andy Cohen (R 4/20/21)
The Real: Sister Souljah, Maahra Hill, Jill Marie Jones (R 3/8/21)
Kelly Clarkson: Fat Joe, Kristin Chenoweth, Bowen Yang, Chris Martin
Drew Barrymore: Jennifer Aniston, Wayne Brady
WHAT ARE YOU TALKIN' ABOUT? Here are today's PPM-Friendly Topics!
Disney said the remainder of its 2021 slate of films will have exclusive 45-day theatrical release windows before they move to streaming.  They released several films — including Cruella, Raya and the Last Dragon and Black Widow — on Disney+ the same day they opened in theaters earlier this year.  The movies Disney will release in theaters first going forward include: The Last Duel on Oct. 15, Ron's Gone Wrong on Oct. 22, Eternals on Nov. 5, Encanto on Nov. 24, West Side Story on Dec. 10 and The King's Man on Dec. 22.  "Following the tremendous box office success of our summer films which included five of the top eight domestic releases of the year, we are excited to update our theatrical plans for the remainder of 2021," Kareem Daniel — chairman of Disney media and entertainment distribution — said in a statement Friday.
********We're excited, too!!! Movies just aren't the same in our living room.. where mom can fart at will!!
*****They changed their minds when "Shang-Chi" made $85 million at the box office over Labor Day!!
******The theaters are excited, because when a movie makes $85 million, they sell $185 million worth of popcorn and sodas!!
Tori Spelling attributed her youthful new look to makeup and skincare after she was snapped looking like a different person and subsequently accused of having plastic surgery.  "First of all, I have an amazing makeup artist now. Her name is Hailey Hoff, and with contour, she does makeup like no one else," she said on SiriusXM's "Jeff Lewis Live" Thursday.  "I look completely different," she admitted. "I look like I've had a nose job. Like, it's straight now."  She then claimed, "It's all contouring."  Spelling said her younger look could also be attributed to exosome therapy, which delivers RNA, DNA and proteins to other cells in the body to help with inflammation and rejuvenation.  "It may be the exosomes, too, because they said my skin looks flawless, so maybe I'm looking younger," Spelling said, adding, "They said I looked Snooki's age. She's 33. I'm like, I'll take that."  Earlier this month, Spelling stepped out looking unrecognizable while celebrating the wrap of MTV's "Messyness" with Nicole "Snooki" Polizzi, her hairstylist Laura Rugetti and other friends.  Her updated appearance drew comparisons to Khloé Kardashian, which Spelling said she was honored to hear.  "She's gorgeous," Spelling told TMZ.
********We all want to look better… but you also want to be recognizable!!
******She left out the part where they used a belt sander on her face!!!
*******If people think you look like Snooky, is that a compliment???
Prince Andrew has finally been served court papers over his sex accuser's lawsuit — after his police guards and security were initially ordered not to accept them, according to court papers filed Friday.  Cesar Sepulveda filed an affidavit in the Manhattan federal court lawsuit brought by Virginia Roberts Giuffre confirming that he had served the papers to Andrew at his Royal Lodge home at 9:30 a.m. on Aug. 27.  He detailed how he had been repeatedly rebuffed in previous attempts to hand over the documents in which he is accused of first-degree rape tied to late pedophile Jeffrey Epstein's sex ring.  Sepulveda said the day before the papers were successfully served he had been told to wait at Andrew's main gates, where police officers — including Andrew's head of security — repeatedly claimed they could not reach anyone inside.  The server said that he was then told that "the security there had been instructed not to allow anyone attending there for the purpose of serving court papers onto the grounds of the property and at the time they had been told not to accept service of any court process."  He was "also advised at that time that anything left there would not be forwarded" to the prince.  "It appeared from the attendance that the security staff had already been primed not to allow anyone access onto the property to serve court process and had been instructed not to accept any service," his affidavit said.  He then left messages with Andrew's attorney, but "no communication was received" in response, he said, forcing him to return to Royal Lodge the next day.  This time, the officer at the gate contacted Andrew's head of security, who assured Sepulveda that he could leave the papers and they would be forwarded to the Duke of York's legal team.
********Meanwhile, Andrew was curled up in a ball, weeping!!!
******He called his mummy!!! "They can't do this to me!!! I'm ROYAL!!!"
********Isn't this where he says, "It couldn't have been me!! I can't sweat!!!"??
Ben Affleck and Jennifer Lopez posed for pictures together at the premiere of "The Last Duel" Friday evening in Venice, Italy — their first public event since rekindling their relationship in April. Lopez was seen walking beside and holding hands with Affleck who plays the role of Count Pierre of Alençon in the upcoming historical drama.  He also co-wrote the Ridley Scott-directed film with longtime friend and frequent collaborator Matt Damon, who has been a big-time fan of Affleck's on-again romance with J.Lo.  In July, Damon said he was "so happy" for his best bud, adding, "I love them both."  Although Lopez was playing the supportive girlfriend role at Friday's Venice Film Festival event, she stole the show in a long, white Georges Hobeika gown. The fashionista and her clutch were dripped in luxurious jewels by Cartier as she wore her honey brown hair down in waves.  The last time the couple walked an official red carpet together was in February 2003 at the "Daredevil" premiere, when they were still engaged. They split months later in January 2004.
*********Take that, A Rod!!! You only took her to BALL GAMES!!! And you can't wear a BALL GOWN at a ball game!!
******We are absolutely positive this isn't a publicity stunt!! Right???
********She was wearing the dress that Matt Damon wore to the Oscars!!!
OOPS!! Fan gets a little too aggressive.. and Ben/Batman has to step in and protect his girlfriend!!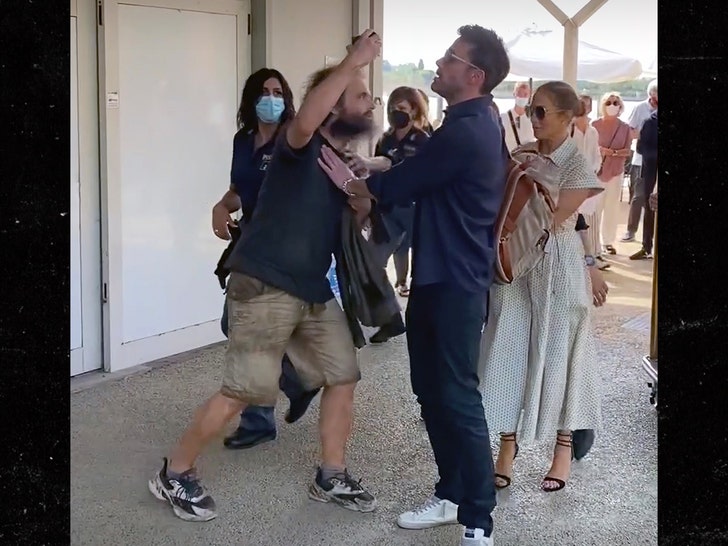 Denise Richards and Charlie Sheen's teenage daughter says she's happier than ever after claiming she moved out of her mom's "abusive household." Sami Sheen, 17, made the allegation in a viral TikTok video this week, but has since made the video private.  She wrote over an emotional video of her looking upset, "1 year ago today: trapped in an abusive household, hated myself, would go days without eating or sleeping, insanely depressed, hated school, etc…"  She then wrote in a happier video of herself, "now: finally moved out of the hell house, had a spiritual awakening, own 2 cats, happy single, full of self love, and dropped out of high school :)."  Although Sami did not say which parent she was living with, a source says she was residing with Richards last year. Sami also posted a video in July saying that her mom tried to kick her out of her home.  The source added that Sami's claims are simply a product of teenage angst.
********Ya think???
****Here's a challenge: find a happy 17-year-old girl!!!!
******She should move in with dad!!! He'll straighten her out!!!
"Dog Whisperer" Cesar Millan's pit bull allegedly attacked a former "star gymnast," leaving her unable to compete.  The athlete, Lidia Matiss, also claims the dog mauled Queen Latifah's pooch to death — and that Millan tried to cover it up, according to TMZ.  She alleged that the dog, named Junior, attacked her in 2017 when she was visiting her mom at a Los Angeles office building he owned, the outlet reported.  Matiss, who was then performing at the highest level in the USA Gymnastics Junior Olympics Programs, encountered the dog roaming the hallway without a leash and was repeatedly bitten on her legs, her suit alleged.  The filing also claims that Junior had a history of attacking people and pooches. The dog allegedly killed one of Queen Latifah's pooches after she brought it to Millan's Dog Psychology Center in Santa Clarita, Calif. Millan then allegedly told his staff to lie and tell the rapper that her dog was hit and killed by a car, according to the suit, obtained by TMZ.  In 2016, Millan was cleared of animal cruelty charges after a dog attacked a pig on camera in one of his taped training sessions.
********He's the Joe Exotic of dogs!!!!
*******There's plenty of room in that Oklahoma State Prison!!!
******What has four legs and one arm?? A happy pit bull!!!
BONUS: Kim K throws on a little dominatrix outfit for stroll through NYC!

Ripping The Tabloids (Throughout the week, we'll give you the stories from that weeks tabs!)
**Please Credit Publication!
Stefani Sour On Gavin's New Gwen!-(National Enquirer)
Fuming Gwen Stefani is wrinkling her nose in disgust over ex-hubby Gavin Rossdale's steamy new romance with a much-younger glamour gal.  Bush rocker Gavin, 55, is hot to trot with model Gwen Singer, who at 26 is six years younger than his daughter!  "Gwen chalks this up to spite and jealousy, since it's an open secret Gavin was bitter to be left out of her nuptials to Blake [Shelton] while she posted loving photos of her sons [whose dad is Gavin] with her new hubby," an insider dished.  "She sees his new 'romance' as a desperate ploy to steal her thunder, and she's warning Gavin to keep his new arm candy away from her sons-or else!"
Hugh Reunites With Mom Who Abandoned Him!-(Globe)
Heart-heavy Hugh Jackman has finally made peace with the mother who abandoned him when he was eight years old!  "The Greatest Showman" actor, 52, admits mom Grace's sudden departure from his life was "traumatic"-but now reveals he has spent the past decade finding forgiveness!  Grace McNeil, who had suffered from depression, abruptly fled her family in Australia in the late '70s without saying goodbye-leaving husband Christopher to raise their five children all by himself!  "It was traumatic," the "Wolverine" wonder says.
Loose Talk-(Us Weekly)
"If I'm not crying in a scene, I'm completely destroying myself with rage.  This is my hardest role to date so far."-On his Apple TV+ show See, Jason Momoa.
"When I was 11, I mentioned that my favorite animals are wolves, and we got sent so much wolf stuff.  Wolves are not my parents' favorite animal, but they now have wolves all over their house."-On Harry Potter fans listening to his every word, Daniel Radcliffe.
"It's a chatty, friendly place.  You go down the grocery aisle and you're going to have three full conversations with someone about random stuff."-On enjoying life in Australia while filming Netflix's God's Favorite Idiot, Melissa McCarthy.
Taylor to Joe:  Put a Ring On It!-(Star)
Taylor Swift has dropped some major clues in her music about wanting to marry boyfriend Joe Alwyn.  The singer 31, revealed that she didn't need a flashy piece of jewelry on "Paper Rings," suggested that they were destined to be "tied" together on "Invisible String" and wore a bridal-style dress in the music video for "Willow,"  But the British actor, 30, still can't seem to take the hint.  "Joe gets very aloof when people try to pin him down on the engagement topic, but he's been warned that it could spell the end of them if he doesn't ask Taylor to marry him soon."  It's a love story.  Baby, just say yes!
Positive ID-(Life & Style)
Decatur, Ala.
What an arresting resemblance!  After the Morgan County Sheriff's Office posted a photo of Patrol Lieutenant Eric Fields on their Facebook page, it quickly went viral, with a subsequent TikTok video quickly racking up 1.6 million views.  Why?  Because Eric looks like the long-lost twin of Dwayne "The Rock" Johnson!  "I go along with it," the muscular cop says of the comparisons.  "It's flattering."
Skylar Astin & Lisa Stelly:  Split-(People)
The Pitch Perfect actor and the entrepreneur, both 33, have called it quits.  "They're both so busy, but there is no drama between them at all," says a source close to the former couple, who confirmed their relationship in July 2020.
Number of the Week-(In Touch)
500
-dollars starting price for a pair of Michael Jordan's "heavily used" underwear being sold at auction.
STUPID NEWS
Unusual Nobel Prizes Awarded
The recipients of the 2021 Ig Nobel Prizes include researchers who experimented with upside-down rhinos, analyzed the bacteria in discarded gum and studied the ways cats communicate with humans.  The prizes, awarded by science magazine Annals of Improbable Research, were announced Thursday at the 31st annual Ig Nobel Prize ceremony.  The Biology Prize went to Swedish researcher Susanne Schotz, who analyzed the variations in cat vocalizations while communicating with humans.  The Ecology Prize was awarded to a team of Spanish and Iranian researchers who used genetic analysis to compare the different species of bacteria found on discarded chewing gum recovered from paved surfaces in various countries.  The Chemistry Prize went to a team of researchers from Germany, Britain, New Zealand, Greece, Cyprus and Austria who used chemical analysis to test whether bodily odors created by a movie theater audience could be used to track incidents of violence, sexuality, drug use and profanity in films.  The Economics Prize was presented to Pavlo Blavatskyy, who led a study that suggests the obesity of a country's politicians can be used to indicate the level of corruption in the country.  The Medicine Prize was awarded to Olcay Cem Bulut, Dare Oladokun, Burkard Lippert and Ralph Hohenberger for their study demonstrating that sexual orgasms are as effective as decongestant medicines at improving nasal breathing.
*******Doesn't everyone have an orgasm when they sneeze?? Or do they sneeze when they have an orgasm??
*****Don't keep us in suspense!! What did they find in the chewed-up chewing gum???
*****Obama said, "Losers!! I got a REAL Nobel and I didn't do anything!!"

Lost Dentures Reunited With Owner
The Illinois State Police said a visitor to the Illinois State Fair was reunited with an unusual piece of lost property — their dentures.  The ISP said in a Facebook post that a fair-goer flagged down troopers to turn over a set of "abandoned chompers" found in the Conservation World area of the fair.  The post was later updated to say the owner had been found.  "The owner has been in contact with the lost and found and should be reunited with their previously misplaced pearly whites very soon. Thank you to all that made this reunion a reality," the post said.
**********Hey… she was havin' a real good time!!!
*****Were they stolen?? Because we'd like to take a "bite out of crime!!!"
*******Dentures are hard to deal with!!! Because: "You can't HANDLE the truth!!"
Gecko Stows Away Inside Bra
A British woman unpacking her suitcase after a trip to Barbados made a shocking discovery — a gecko that stowed away for a 4,000-mile journey inside her bra.  Lisa Russell contacted the RSPCA after she spotted the tiny gecko while unpacking her suitcase at her home in Thrybergh, a village near Rotherham, England.  Russell said she initially wasn't sure what the small object was inside the cup of her bra.  "I thought it was a tiny dead creature and then when it moved I started screaming — it is not what you expect to find in your bra after a 4,000-mile journey," she told the RSPCA.  "The tiny lizard was lucky as the bra was on top of my suitcase on my clean pile — as it was so hot out there I didn't bother wearing one. It must have been happy in its new pad!"  Russell said the gecko must have been in her suitcase for at least 24 hours, from the time she packed it to the time she started unpacking.  "I am just so shocked not only did it survive the journey, but also the fact it didn't get squashed as my suitcase was so full when we were returning I had to sit on it to get it zipped up," she said.
********Good news, though: she just saved 15% on her car insurance!!!
Get Paid To Watch Horror Films
A company is seeking a horror fan to get paid $1,300 to watch 13 creepy classics and monitor their heart rate to compare the fear factors of high- and low-budget films.  FinanceBuzz, a financial advice website, announced it is seeking a "Horror Movie Heart Rate Analyst" to watch 13 horror films with varying budgets and compare the scares from big-budget movies to their low-budget counterparts.  The chosen candidate will use a FitBit device to track heart rates while watching the movies.  The films selected by the website are Amityville Horror, A Quiet Place, A Quiet Place Part 2, Candyman, Insidious, The Blair Witch Project, Sinister, Get Out, The Purge, Paranormal Activity and the 2018 remake of Halloween.  "The lucky candidate hired for this ghostly gig will be paid $1,300 for their efforts. We'll also provide a FitBit to wear during their movie marathon and a $50 gift card to cover the cost of movie rentals," the website said.
***********Take the money and put the Fitbit on your dog!!!
TOPIC: Out of those movies, which one is your favorite??
TOPIC: Do you find scary movies to be a turn-on??
STUFF THAT'S COOL AND VIRAL
VIDEO: FANS CATCH A FALLING CAT AT FOOTBALL GAME.
VIDEO: ROBBER GETS TRAPPED IN PLACE HE TRIES TO ROB!
A LIST FOR MONDAY
7 Things to Do if Your Unemployment Just Got Cut
The Penny Hoarder
Look for a Job in an Industry That Hires Fast
If you're still searching for employment, consider a bridge job. Basically, it's any job that helps you pay the bills, even if it's not your ideal job. Because many businesses are having trouble recruiting employees right now, you may be able to negotiate better wages than you could in pre-pandemic days in fields that don't traditionally pay well.
Some places to look:
Data entry: Many industries need data-entry clerks and have fully remote positions. Typical pay ranges from $10 to $15 an hour. If you have solid typing skills, becoming a transcriptionist is another option.
Online tutoring: If you have a special skill or a college degree, getting an online tutoring job can help you bring in extra cash. Typical pay ranges from $10 to $27 an hour.
Food service, retail and hospitality.Across the country, employers in food service, retail and hospitality are holding job fairs, with many hiring on the spot and paying higher wages than they did in the past. For example, these 160,000 restaurant jobs pay over $10 an hour.
Also check out The Penny Hoarder's work-from-home jobs portal, which regularly features remote entry-level listings.
Take up a Side Hustle
Your goal here is to find any way to start generating income before your benefits end. There are plenty of easy side hustles you can take on now with little upfront cost to start earning extra cash. Some ideas include:
Drive for Uber or Lyft. Ride-share companies Uber and Lyft have a driver shortage, making it possible for drivers to earn $25 an hour or more in some markets.
Do odd jobs on TaskRabbit.Use the app to connect with people near you who need help with tasks like furniture assembly, cleaning and painting.
Deliver groceries through apps like Instacart or Shipt.
Find gigs through sites like Care.com and SitterCity.
Pet sitting and house-sitting.As people resume travel, they'll need services like pet care and house-sitting that weren't in high demand last year.
Sell stuff.It's not really a side hustle, but if you have items in good condition that you're not using, you could pocket extra cash by selling them. For example, here are 14 places to sell used clothing online or in person. You can also sell gift cards online for cash.
Search for Rental Assistance
While the federal eviction moratorium expired Aug. 26, help is still available. Congress has allocated nearly $47 billion to help distressed renters — but getting a piece of that money is maddeningly complex. As Vox reported, more than 340 agencies are administering that aid, each with their own set of rules.
To learn more about relief in your area, check out this state-by-state guide to rental assistance programs. Another good resource is the Consumer Financial Protection Bureau's rental assistance page. You may also qualify for help with utilities and energy costs.
The 211 helpline, which is operated by the United Way, may also be able to help you navigate local assistance programs. You simply dial 211, and you'll be connected with someone who knows about resources in your community. Because of the lengthy process involved, it's essential that you take this step ASAP.
Get Food Assistance
The 211 hotline can also connect you with food pantries near you. Also visit benefits.gov to determine whether you're eligible for SNAP benefits. It can take up to 30 days to receive benefits through the regular application process, but you may qualify for expedited benefits, depending on your state.
Contact Your Unemployment Office
You may still be eligible for your state's unemployment benefits, but the rules will vary by state. Most states have a limit on how long you can receive benefits.
As difficult as dealing with your state's unemployment office can be, it's essential that you contact them immediately to find out whether you'll qualify for state assistance. In some cases, you may need to submit a new application or apply for an extension.
Ask Your Creditors for Forbearance
Though banks aren't widely advertising forbearance programs the way they were a year ago, contact your lenders to see if skipping or pushing back payments is an option. The best time to do this is always before you've missed a payment.
Be sure to ask how they'll report your payment status to the credit bureaus. If they'll be reporting your payments as delinquent, your credit score will plummet.
If you have federal student loans, take advantage of the automatic forbearance that's in effect through at least Jan. 31, 2022. You can ask for a refund of any payments you've made since March 2020.
Don't Pay Debt if You're Putting Your Health or Housing at Risk
A bare-bones budget includes only your basic necessities: housing and utilities, food, health care and minimum debt payments. But in a true emergency, you may have to make even deeper cuts.
Try to work with your lenders. But focus on paying rent and utilities, keeping food on the table and getting medications you need before you make payments on credit cards or loans.
Yes, you'll damage your credit score if you miss payments without your lender's permission. But you can recover from bad credit. While your credit score is important, your health and housing are far bigger priorities.
The preceding material was compiled and edited by Brandon Castillo.  The Editor-In-Chief is Gary Bryan.  The Radio Genius Show Prep Service is licensed for use on-air only by subscribing radio stations.  Other means of redistribution is forbidden.
© 2020 – Radio Genius Show Prep