Born on this day!! Actor Janet Suzman is 84. Actor-turned-politician Sheila James Kuehl ("The Many Loves of Dobie Gillis") is 82. Singer Carole King is 81. Singer Barbara Lewis is 80. Actor Joe Pesci is 80. Author Alice Walker ("The Color Purple") is 79. Actor Mia Farrow is 78. Singer Joe Ely is 76. Actor Judith Light ("Ugly Betty," ″Who's the Boss") is 74. Actor Charles Shaughnessy ("The Nanny") is 68. Actor Ed Amatrudo (TV's "Nashville") is 67. Jazz saxophonist Steve Wilson is 62. Country singer Travis Tritt is 60. Actor Julie Warner ("Nip/Tuck," ″Family Law") is 58. Actor Sharon Case ("The Young and the Restless") is 52. Actor Jason George ("Grey's Anatomy") is 51. Actor Amber Valletta ("Blood and Oil," "Revenge") is 49. Actor Charlie Day ("It's Always Sunny in Philadelphia") is 47. Singer Chad Wolf of Carolina Liar is 47. Actor A.J. Buckley ("CSI: NY") is 46. Guitarist Richard On of O.A.R. is 44. Actor Tom Hiddleston (TV's "The Night Manager," film's "The Avengers") is 42. Actor David Gallagher ("Seventh Heaven") is 38. Actor Michael B. Jordan ("Black Panther," "Creed") is 36. Actor Rose Leslie ("Game of Thrones," ″Downton Abbey") is 36. Actor Camille Winbush ("The Bernie Mac Show") is 33. Actor Jimmy Bennett ("No Ordinary Family") is 27. Actor Evan Roe ("Madam Secretary") is 23.
THIS DAY IN GENIUS HISTORY
1861 – Jefferson Davis was chosen as the president of the Confederate States of America.
1943 – The battle of Guadalcanal ended with an American victory.
1950 – Senator Joseph McCarthy claimed he had evidence there were card-carrying members of the Communist Party in the State Department.
1964 – The Beatles made their first appearance on The Ed Sullivan Show.
1991 – Lithuanians voted overwhelmingly for independence from the Soviet Union.
2001 – A U.S. nuclear sub struck the Ehime Maru, a Japanese fishing boat.
Today Is: Cut The Cord Day, Gwyl Mabsant, National Giving Hearts Day, National Pizza Day, Read in the Bathtub Day, Toothache Day
TODAY ON TV!
Primetime TV (All Times Eastern)
CBS – 8:00 –  Young Sheldon  / 8:30 – Ghosts  /  9:00 – So Help Me Todd  /  10:00 – CSI Las Vegas
NBC – 8:00 – Law and Order  /  9:00 – Law and Order SVU  /  10:00 – Law and Order Organized Crime
ABC – 8:00 –  The Parent Test  /  9:00 – The Parent Test  /  10:00 – The Chase
FOX – 8:00 – Hell's Kitchen
CW – 8:00 – Walker  /  9:00 – Walker Independence
TV Talk Shows
Jimmy Kimmel: Julia Louis-Dreyfus, Rose Byrne, Bobby Cannavale (R 1/24/23)
Jimmy Fallon: Matthew McConaughey, Evangeline Lilly, Lang Lang
Stephen Colbert: Nathan Lane, Sam Jay (R 1/23/23)
Seth Meyers: Penn Badgley
James Corden: O'Shea Jackson Jr.
Watch What Happens Live: Natasha Lyonne, Alison Brie
Daily Show: Guest host Chelsea Handler
The View: Day of Hot Topics
The Talk: Scott Caan
Live with Kelly and Ryan: Jordan Fisher
Kelly Clarkson: Salma Hayek Pinault, Guy Branum, Dylan Gilmer, Stephen A. Smith
Tamron Hall: Elizabeth Smart, Kara Robinson
Drew Barrymore: Alison Brie, Diego Boneta
Jennifer Hudson: John Legend
WHAT ARE YOU TALKIN' ABOUT? Here are today's PPM-Friendly Topics!
QUESTION: Are you BETTING on the Super Bowl?? Here's a list of the STRANGEST BETS on the Big Game, including halftime!! Will Rhianna be holding an umbrella onstage??
Madonna responded to criticism of her "new face" at the Grammy Awards.  She introduced Kim Petras and Sam Smith on stage at the Grammys, which took place Sunday in Los Angeles.  "Instead of focusing on what I said in my speech which was about giving thanks for the fearlessness of artists like Sam and Kim- Many people chose to only talk about Close-up photos of me Taken with a long lens camera By a press photographer that Would distort anyone's face!!" the singer wrote.  "Once again I am caught in the glare of ageism and misogyny That permeates the world we live in. A world that refuses to celebrate women past the age of 45 And feels the need to punish her If she continues to be strong willed, hard-working and adventurous," she added.  Madonna ended her post by saying she will continue to push boundaries.  "I look forward to many more years of subversive behavior -pushing boundaries-Standing up to the patriarchy -and Most of all enjoying my life," she said.
*******That's it!! The patriarchy made her do it!!!
*****If she's such a badass, why not just stand up and say, "THIS IS MY FACE, AND I LIKE IT!! SUCK ON THAT!!!!"
*******She looks like "Madame," the puppet by Waylon Flowers~~~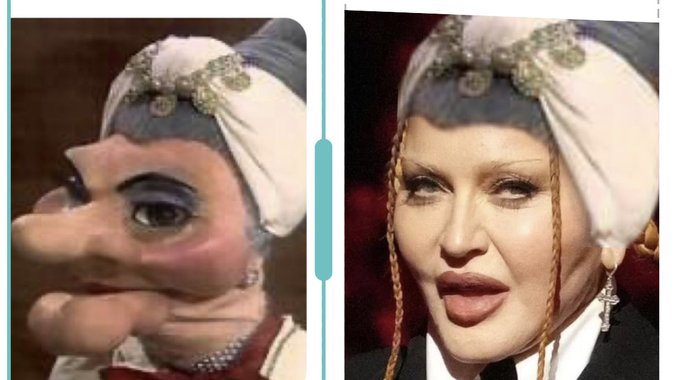 Christina Applegate is looking ahead to the upcoming Screen Actors Guild Awards with bittersweet emotions.  Christina, who confirmed her MS diagnosis in 2021, revealed that the upcoming SAG Awards will most likely be her last as she continues to deal with the impacts from the disease.  "It's my last awards show as an actor probably, so it's kind of a big deal," Applegate, 51, told The Los Angeles Times in an interview published on Tuesday.  She added, "Right now, I couldn't imagine getting up at 5 a.m. and spending 12 to 14 hours on a set; I don't have that in me at this moment."  Her remarks come nearly two years after she was diagnosed with multiple sclerosis. At the time, she was filming Dead to Me's third and final season, which forced her to take a hiatus from taping and undergo treatment.
******She should take care of herself and enjoy life as much as possible!!!
Prince Harry and Meghan will be deposed as part of a defamation case brought against the duchess in the United States by her half-sister, Samantha Markle, a Florida judge ruled on Tuesday.  Markle is suing Meghan for "defamation and injurious falsehood" following the couple's 2021 interview with Oprah Winfrey, and seeking damages in excess of $75,000.  Samantha Markle's March 2022 lawsuit claims that Meghan made "demonstrably false and malicious statements….to a worldwide audience," including the "roughly 50 million people in 17 countries" who watched the interview.  Meghan filed a motion in September last year to stop depositions – a witness' sworn out-of-court testimony used to gather information – in the case.  The presiding judge, Charlene Edwards Honeywell, dismissed the motion, ruling that Meghan "does not show that unusual circumstances justify the requested stay, or that prejudice or an undue burden will result if the Court does not impose a stay," Britain's PA Media news agency reported.  "Defendant Markle does not satisfy the high standard required to stay discovery pending the resolution of a dispositive motion."  Samantha Markle said in the initial filing that Meghan defamed her in the interview when she said she grew up as "an only child."
********She's been defamed in front of 50 million people.. and she only wants $75,000??? Doesn't sound like her reputation is worth much!!
**********Meghan can lie at the drop of hat, so this shouldn't be a challenge!!!
********Harry's book may win him a Pulitzer Prize… for fiction!!!
Katherine Schwarzenegger is standing by her husband Chris Pratt's side.  Over the years Pratt has been the subject to controversy, especially when he praised his wife in November 2021 for giving birth to their "healthy" daughter Layla, now two, which critics immediately dubbed a "dig" at his ex-wife Anna Faris, referring to how she gave birth to their shared son two months early. Jack, now 10, was born premature, weighing three pounds 12 ounces and spent one month in the NICU. From suffering cerebral hemorrhage (severe brain bleeding) to undergoing eye surgeries, Jack still faces health issues with his vision and leg muscles.  In a recent chat with the New York Times, Schwarzenegger shared her thoughts on the criticism her husband has encountered.  "I see what people say," she said. "But I just know that it's so far from the reality."
*********At least she's standing up for him. Kim Kardashian would have left him by now!!
Brendan Fraser says he nearly played the role of Superman earlier in his career.  He reflected on the audition process for the part of the legendary DC Comics character Superman, in a project that was, at the time, being developed by J.J. Abrams.  "Everyone in town was reading for Superman. They were testing six or seven guys in 2002 or 2003," Fraser said in a recent interview with Howard Stern, recalling that the late Paul Walker was also up for the role. "Of course it's a life-changing, amazing opportunity, but I had to reconcile with, 'Okay, say you do get the job to be the Man of Steel. It's going to be chipped on your gravestone. Are you okay with that? You will forevermore be known as the Man of Steel.' There was a sort of Faustian bargain that went into [the] feeling, and I think inherently I didn't want to be known for only one thing, because I prided myself on diversity my whole professional life. I'm not a one-trick pony." He went on to express disappointment over losing the chance to join the series, though he says the reason he didn't get the part "had to do with shenanigans and studio politics, and, probably, inherently, in my screen test. I think that's why you test — they could kind of see I was only there like 98 percent instead."
*******He could still be cast as "Fat Superman!!" (Hey, that would be a popular super hero!!)
********They did offer him the party of "Superman's Mummy!!"
********When we saw the title of "The Whale," we thought it might be a Marvel movie!!!
CBS is set to replace the long-running Late Late Show with James Corden with a reboot of comedic panel game show @midnight, sources confirm to The Hollywood Reporter. Stephen Colbert, who hosts The Late Show for the network, is on board as executive producer of the revived program that aired 600 episodes on Comedy Central before signing off in August 2017.  @midnight, which launched in October 2013, aired Mondays through Thursdays on the basic-cable network, with host Chris Hardwick asking internet-themed questions to three comedian guests. Hardwick is not expected to have direct involvement in the new iteration of @midnight, which hails from Funny or Die and won two Emmys for creative achievement in interactive media social TV experience over the course of its initial run.
******Does anybody remember this show??? We don't!!!
Ripping The Tabloids (Throughout the week, we'll give you the stories from that weeks tabs!)
**Please Credit Publication!
Brains & Beauty-(Star)
New York City, Jan. 19
Words of wisdom!  Emily Ratajkowski gave a rousing commencement speech at Hunter College's graduation ceremony, urging students not to let imposter syndrome get in the way of their special day.  "It's hard to celebrate myself, not as an imposter in a body, but as a soul deserving of joy.  And I bet a few people here feel the same way," said the 31-year-old model.  "So if you can't celebrate yourself, maybe do it for others-for the loved ones who fill this audience who can remember when you first had the idea to try and get this degree and cheered you on when you were sure you'd never make it."
STUPID NEWS
Woodpeckers Stash Acorns In Wall
A pest control technician investigating an insect problem at a California home made a startling discovery: About 700 pounds of acorns had been stashed inside the house's wall by woodpeckers.  Nick Castro of Nick's Extreme Pest Control said he expected to find a dead animal inside the wall of a Glen Ellen home where residents reported seeing maggots and mealworms emerging from a wall.  Castro cut a small hole in the wall of the second-floor bedroom and was shocked when acorns started pouring from the opening.  Castro and his colleagues discovered the acorns were piled about 20 feet high inside the wall. He estimated about 700 pounds of acorns were removed.  The technician said he investigated outside the home and discovered woodpeckers had been poking holes in the chimney stack and had been stashing acorns in the openings for the past two to five years. He said the acorns eventually fell through into the wall cavity.  See the video HERE.
******We're all looking for somewhere to stash our nuts, right guys?? Guys???
******The Woodpecker has won a lifetime achievement award for the "dirtiest sounding bird name!!"

Largest Wearable Cake Dress
A Swiss baker earned a Guinness World Record at a wedding fair by creating the world's largest wearable dress made out of cake.  Guinness World Records announced Natasha Coline Kim fah Lee Fokas of the SweetyCakes GmbH bakery created the dress for the Swiss Wedding World expo in Bern.  The dress, which weighs 289 pounds and 13 ounces, was certified as the world's largest wearable cake dress (supported) by the record-keeping organization.  Guinness World Records posted a video to YouTube showing the cake being sliced while still being worn by a model at the fair.  See the video HERE.
********And there's a big demand for wearable wedding cakes??
*******"You may now eat the bride" used to have a different meaning!!
*****The bride and groom were cramming the dress into each others' mouths!!!
Just Another Day In Louisiana
A Florida woman in possession of a blowtorch crashed a "repurposed" school bus painted with graffiti reading "sex trafficking awareness" onto a school campus in Louisiana while being chased by deputies on Tuesday, authorities said.  The pursuit began around 6 a.m. after the woman, later identified as 37-year-old Natalie Jade Jarvis, walked into a gas station in Mandeville while carrying a blowtorch and said she was looking for the local office of the Department of Children and Family Services (DCFS), the St. Tammany Parish Sheriff's Office said.  Deputies were called and located the bus on U.S. Highway 190 near a Walmart. Officials described the bus as "old," "very colorful" and "covered in graffiti" with a Virginia license plate.  The woman refused to stop and led deputies on a chase into downtown Covington, where she crashed into a fence on the grounds of the St. Scholastica Academy, the sheriff's office said.  Officials said there were no other occupants on board the bus at the time of the crash and no injuries were reported.
***********Ah,, but she made you look!!!
*******Her lawyer claims that the blowtorch is a "legal cigarette lighter!!"
Woman Wakes Up At Funeral Home
An investigation has been launched after an 82-year-old woman was pronounced dead at a New York nursing home – only to be found breathing three hours later at a funeral home.  The woman was said to be dead at Water's Edge Rehab and Nursing Centre at Port Jefferson on Long Island at 11.15am on Saturday.  Suffolk County police said the woman, whose name has not been released, was taken to the OB Davis Funeral Homes in Miller Place at 1.30 pm.  She was discovered breathing at 2.09pm.   She was taken to a hospital. No update on her condition was available on Monday.  The state attorney general and health department are investigating.  It comes just weeks after a care home in Iowa was fined $10,000 over a similar episode.  Authorities said a 66-year-old woman was declared dead on 3 January, at the Glen Oaks Alzheimer's Special Care Centre in Urbandale, where she was receiving hospice care.  The woman was placed in a body bag and taken to the Ankeny Funeral Home and Crematory, where workers found she was breathing and called 911.
*******Remember that TV show "The Walking Dead?" It's a documentary!!
*****Maybe these nursing homes need the beds!!"
*****We had an uncle who looked like he was dead most of the time!!
STUFF THAT'S COOL AND VIRAL
VIDEO: A WENDY'S TRAINING VIDEO ON HOW TO MAKE HOT DRINKS!
VIDEO: NOTORIOUS B.I.G. DOES FREESTYLE ON LIVE RADIO IN 1997.
A LIST FOR THURSDAY
10 Easy Super Bowl Dips
The Penny Hoarder
These 10 easy-to-make dips will be enough to get the party started — and keep it going. We've also got your wallet in mind and are using the most economical ingredients we can find.
Fast and Simple Guacamole
This is a quick version of creamy guacamole that you can make to your liking. Smash four or five ripe avocados in a medium bowl, add a couple teaspoons of fresh lime juice, a quarter cup of prepared salsa, 1/2 teaspoon of ground cumin and some coarse salt. Taste it. Add hot sauce if you want it hotter. Serve with tortilla chips.
Cowboy Caviar
Too bad the Dallas Cowboys aren't in the big game since this easy-to-make and inexpensive chunky dip is a Texas original. Cowboy Caviar is a good way to use up pantry staples because it calls for one can each of corn, black-eyed peas and black beans. Italian dressing provides much of the punch and this version from All Recipes gives the step-by-step details. You'll need a sturdy scooper like tortilla chips, but don't be surprised if your game day guests eat it with a spoon.
White Bean Dip
Another Super Bowl snack that makes use of pantry staples is White Bean Dip. Drain two cans of cannellini or northern beans and rinse them to get rid of excess salt. Process in a food processor or blender with 3 cloves of peeled garlic, 1/2 cup olive oil, the juice of 1 lemon and a 1/2 cup of flat-leaf parsley. This dip should be smooth. (If you happen to have a jar of tahini in the fridge, you can add a tablespoon or two for a more hummus-like dip.) Serve with pita chips.
Buffalo Chicken Dip
Put out the celery, carrot and other veggie sticks for this healthy version of Buffalo Chicken Dip from Cooking for Keeps. The creaminess comes from Greek yogurt and the Buffalo wings flavor is all there, thanks to Frank's RedHot sauce (or whatever hot sauce you prefer.) This is another opportunity to check the pantry and use what you have on hand, though you will likely need to buy blue cheese. You can swap the Greek yogurt for sour cream or the light mayo for full-fat.
Whipped Ricotta Dip
Inside the Rustic Kitchen has a recipe for trendy Whipped Ricotta Dip that will seem like something served in a cool restaurant. Ricotta cheese is whipped with lemon, thyme and grated Parmesan cheese (use up that wedge in the fridge) and then top with roasted cherry tomatoes. Serve with store-bought crostini. The recipe calls for fresh thyme but unless you have another use for it, the thyme might languish in the fridge and you've wasted $2 or more. You can substitute dried thyme but reduce the amount by a third. The recipe calls for 1 tablespoon fresh so use 1 teaspoon dried.
Herb Dip
Here's a pantry recipe that can be made according to whatever dried herbs you have on hand. The basic formula is 1 cup sour cream mixed with 1 cup mayonnaise combined with 2 tablespoons of a dried herb or herb blend. Let the mixture sit in the fridge for at least an hour, and easily all day, so that the herbs can rehydrate. If you are a fan of the Lipton Onion Soup Dip, make your own version with the sour cream-mayo mixture and 2 tablespoons of minced dried onion. Jazz it up with a splash of Worcestershire sauce and season with kosher salt. Have some dried drill in the spice cabinet? Make a dill dip the same way with a squeeze of lemon. Serve both with traditional potato chips.
Loaded Baked Potato Dip
This Loaded Baked Potato Dip gets rave reviews on the Taste of Home site. It's a clever twist on the baked potato piled high with sour cream, shredded cheese and bacon. So where's the potato come in? The creamy mixture is scooped up with baked waffle fries. The recipe also uses healthful low-fat ingredients but you can use fully-loaded versions.
Crockpot Beer Cheese Dip
This cheese dip from the Spruce Eats is made in the slow cooker and will comfort the Green Bay Packers cheeseheads still smarting from not making it to Super Bowl Sunday. It calls for a block of "processed cheese loaf," which is a generic way to say Velveeta, that fast-melting cheese perfectly convenient for dips and often on sale in advance of the big game. If you have a small slow cooker, you can use it for serving and keep the dip warm. You'll need a sturdy scooper, like thick pretzel rods, and maybe even apple wedges.
Moroccan Spice Carrot Dip
Put that jar of harissa — the Moroccan spice blend of ground chilies, paprika, cumin and more — to use in Moroccan Spice Carrot Dip from Coffee and Quinoa. Carrots are cheap and this dips calls for a couple pounds of them roasted. This dip is a departure from the usual game day fare but why not think out of the box? Seeded flatbread crackers make great scoopers.
Easy Creamy Bean Dip
Here's another recipe that makes use of pantry staples, including a can of refried beans and prepared salsa. You could also substitute delicious homemade salsa.
Easy Creamy Bean Dip from Mitten Girl is a lazy take on seven-layer dip, which is popular at parties but takes a bit more work. Make sure you save some grated cheese for garnish and consider adding chopped scallions for eye-appeal. Serve with tortilla chips and slices of crispy jicama for scooping.
How to Make Your Super Bowl Menu Easy and Tasty
Follow these tips to make game day low-stress.
Use what you have.When you are looking to make economical party food, survey what you already have in your pantry and fridge. A jar of salsa? Use that for our fast and simple guacamole. (Remember, avocados are often plentiful and on sale just before the big game.) A couple of cans of white beans? Perfect for a garlic-heavy white bean dip. How about those cherry tomatoes that you just bought at the farmers market? Roast them to top your whipped ricotta to make a trendy and cheap appetizer.
Go big with cream cheese. After a dry spell this time last year, cream cheese is back in full force on store shelves. Grab a block or two, and consider making Ranch Cheese Beer Dip with Hidden Valley ranch dressing seasoning or Jalapeno Popper Dip. These are both great take-along Super Bowl snacks.
Go low and slow.If you haven't used the slow cooker for a while, Super Bowl Sunday is the day to dust it off for Crockpot Beer Cheese Dip that can be scooped up with crackers or veggies. Can't go wrong with that.
The preceding material was compiled and edited by Brandon Castillo.  The Editor-In-Chief is Gary Bryan.  The Radio Genius Show Prep Service is licensed for use on-air only by subscribing radio stations.  Other means of redistribution is forbidden.
© 2023 – Radio Genius Show Prep