Born on this day!! Actor Peter Lupus (TV's "Mission: Impossible") is 89. Actor William Lucking ("Sons of Anarchy") is 80. Singer Barry Manilow is 78. Comedian Joe Piscopo is 70. Actor Mark Linn-Baker ("Perfect Strangers") is 67. Actor Jon Gries ("Napoleon Dynamite") is 64. Singer Jello Biafra (Dead Kennedys) is 63. Director Bobby Farrelly ("There's Something About Mary") is 63. Actor Thomas Haden Church ("Sideways," ″Wings," ″Ned and Stacy") is 61. Actor Greg Kinnear is 58. Actor Kami Cotler ("The Waltons") is 56. Actor Jason Patric is 55. Singer Kevin Thornton of Color Me Badd is 52. Actor-comedian Will Forte ("Saturday Night Live") is 51. Actor Arthur Darvill ("DC's Legends of Tomorrow") is 39. Actor Jodie Whittaker ("Doctor Who") is 39. Actor Manish Dayal ("The Resident") is 38. Country singer Mickey Guyton is 38. Actor-rapper Herculeez of Herculeez and Big Tyme is 38. Rapper Kendrick Lamar is 34. Actor KJ Apa ("Riverdale") is 24.
THIS DAY IN GENIUS HISTORY
1775 – The Battle of Bunker Hill took place during the American Revolution.
1885 – The Statue of Liberty arrived in New York City aboard the French ship Isere.
1928 – Amelia Earhart embarked on the first trans-Atlantic flight by a woman.
1944 – The Republic of Iceland was established.
1963 – U.S. Supreme Court ruled that no locality may require recitation of Lord's Prayer or Bible verses in public schools.
1972 – Burglary of Democratic Party headquarters in Washington, DC, started the Watergate political scandal.
1994 – O. J. Simpson's slow-speed chase by the police, watched by millions on TV, ended in his arrest.
2002 – Australian scientists announced that they had "teleported" a laser beam—breaking it up and reconstructing it in another location.
Today Is: Bartender Day, Dump The Pump Day, National Garbage Man Day, National Career Nursing Assistants Day, Recess At Work Day, Stewarts Root Beer Day, World Day To Combat Desertification and Drought, World Tapas Day, World Tesselation Day
TODAY ON TV!
Primetime TV (All Times Eastern)
CBS – 8:00 –  Young Sheldon  /  8:30 – The United States Of Al  /  9:00 – Mom  /  9:30 – Be Positive  /  10:00 – Clarice
NBC – 8:00 – Golf  /  10:00 – Olympic Trials
ABC – 8:00 –  Holey Moley  /  9:00 – Holey Moley  /  10:00 – The Hustler
FOX – 8:00 – Beat Shazam  /  9:00 – LEGO Masters
CW – 8:00 – Walker  /  9:00 – Legacies
TV Talk Shows
Jimmy Kimmel: Dax Shepard, Monica Padman, Tony Hale, Saweetie
Jimmy Fallon: Helen Mirren, Kenya Barris, Noel Gallagher's High Flying Birds
Seth Meyers: Peyton Manning, Bowen Yang, Edgar Wright, Stevie Nistor
James Corden: Will Arnett, Lord Huron
Lilly Singh: Elsa Majimbo (R 3/8/21)
Conan: Mila Kunis
Watch What Happens Live: Jane Curtin, Laraine Newman
The View: Martin Sheen, Ziwe
The Talk: Sarah Shahi, guest co-host Ne-Yo
Live with Kelly and Ryan: James Corden, Monica Mangin, Danya Isom Johnson
Ellen DeGeneres: David Harbour, Offset, guest host Stephen "tWitch" Boss
Wendy Williams: Hot summer deals
The Real: Jeremy Sisto, Matt James (R 1/28/21)
Kelly Clarkson: Maya Rudolph, Flula Borg
Tamron Hall: The secret lives of teenagers (R 5/12/21)
Drew Barrymore: Jason Biggs, Jenny Mollen, Rita Ora (R 2/19/21)
WHAT ARE YOU TALKIN' ABOUT? Here are today's PPM-Friendly Topics!
The Killers and Bruce Springsteen have teamed up on a new song.  They released the song "Dustland" on Tuesday.  "Dustland" is a remake of The Killers' 2008 song "A Dustland Fairytale," which appeared on the group's album Day & Age.  In an Instagram post, The Killers frontman Brandon Flowers recalled how Springsteen texted him about working together in February 2020. Flowers said he wrote "A Dustland Fairytale" during his late mom's battle with cancer.  "It was an attempt to better understand my dad, who is sometimes a mystery to me. To grieve for my mother. To acknowledge their sacrifices and maybe even catch a glimpse of just how strong love needs to be to make it in this world. It was my therapy. It was cathartic," he wrote.  They discussed and performed "Dustland" during Wednesday's episode of Today. In the interview, Flowers voiced his admiration for Springsteen.  "He's somebody that, he's a part of American culture and fabric, and he's such an icon. So just to have him be aware of what we do is really special to us," Flowers said.  Listen to it HERE.
*********Did Bruce drive to the interview in his Jeep????
********Who's doing the bigger favor? Bruce? Or the KIllers??
******Is it a hit or a miss?? We liked Coldplay and the Chainsmokers better??
A New York judge ordered Harvey Weinstein to be extradited to Los Angeles to face sexual assault charges.  Erie County Court Judge Kenneth Case denied a motion by Weinstein's attorney to delay his extradition and local prosecutors said the Los Angeles District Attorney's office plans to transport Weinstein sometime by mid-July.  Weinstein's attorney, Norman Effman, said he plans to appeal the order.  He added that Weinstein is not trying to avoid trial and said Los Angeles County could conduct a virtual arraignment.  "If LA wants jurisdiction to commence proceedings, fine," Effman said.  He is serving a 23-year prison sentence at Wende Correctional Facility, a maximum-security prison near Buffalo, N.Y., after he was found guilty of first-degree criminal sexual act and third-degree rape last year.  He also faces 11 counts of sexual assault in Los Angeles, including four counts of forcible rape, four counts of forcible oral copulation, two counts of sexual battery by restraint and one count of sexual penetration by use of force.
********He was swiping right while they were swiping left!!
*****A lot of big Hollywood stars look at him and think, "Eww.. I did THAT??"
*****He was lot sexier when he was launching all those careers!! Right, Gwyneth??
Jennifer Lopez kept a special place in her heart for Ben Affleck after their 2004 split — which made taking him back 17 years later an easy decision, a source says.  "Jennifer always saw Ben as the one that got away," the source said. "She was crushed after they broke up, though she felt at the time that she had no other choice but to call off their engagement."  They met in 2001 on the set of their box-office bomb "Gigli." They started dating soon after and got engaged in 2002. However, the power couple known as Bennifer postponed their 2003 wedding at the eleventh hour and separated the next year.  "As hot and heavy as their relationship was, they were on very different paths at the end of it," the source told us. "Jennifer was ready to settle down and have kids, but Ben wasn't keen on giving up his bachelor lifestyle just yet. In the end, she got tired of waiting for him to come around — even though it broke her heart to end things."  Lopez went on to call their split her "first real heartbreak" and credited her future husband, Marc Anthony, with helping her believe in love again.
**********Then she threw Marc to the curb!!!
*****This story was written by her publicist, making it seem that she's in total control!!
******Most people have relationships.. celebrities have PR stunts!!!
*****How much longer can J Lo keep going through men?? Isn't she close to the end of that phase?? She's like "Liz Taylor, 2021!!"
Meghan Markle's children's book failed to crack the UK Official Top 50 chart during its debut week, according to a new report.  "The Bench" sold 3,212 copies in its first week, the Daily Mail reported Wednesday, compared to No. 1 book "The Thursday Murder Club" by Richard Osman, which sold 28,383 copies in the same time period.  But her debut kids' book did become the UK's best-selling picture book, according to the Daily Mail. As of Wednesday morning, "The Bench" was ranked at No. 5 in Children's Books on Family Life on Amazon UK's charts, and has a 4.5-star rating out of a total of 5, with 280 ratings.  "The Bench" originated from a poem Markle wrote for husband Prince Harry on Father's Day following the May 2019 birth of their son, Archie, and details the "special relationship between father and son, as seen through a mother's eyes," according to publisher Penguin Random House.
********Give it time… it'll build!!!
******She should have called it "The Brady Bench!!" She might have sold some copies through confusion!!
*******The book sold 3,212 copies… all to someone named "P. Harry Mountbatten!!!"
Chrissy Teigen made a joke about previously "bullying" Donald Trump not long after apologizing for previously cyberbullying other public figures.  On Monday, she shared a lengthy apology she composed on Medium after being rocked by scandal for several weeks when previous tweets from Teigen taking aim at celebrities resurfaced.  After sharing the apology online, the cookbook author shared a brief excerpt of her writing on Instagram.  In the comments, she received plenty of love from other celebrities and some fans, while others didn't buy into her statement and asked whether she planned to reach out and apologize to Trump, who she frequently spoke out against online.  It seems Teigen is not interested in doing as much.  "Absolutely crying at the amount of you asking if I'm reaching out to the desk of the former president of the United States to apologize for bullying him, the former president of the United States," she wrote in the post's comments.  She added: "Please never change. I will, but you. You stay."  Followers didn't seem to appreciate Teigen's statement.  "Obviously not taking this very seriously," one replied. "Very sad."  "Lol!! See?? Nothing changed with you," said another. "Lesson clearly wasn't learned. Good luck in your life."  Added a third: "You need to get your head checked lady nothing beautiful about you."
*******Trump IS the biggest troll in American history!!
*****It's hard to imagine anyone hurting his self-image!!
******But even HE didn't tell people they should die… or kill themselves!! SO… Chrissy wins "worst human being!!!"
HERE'S HOW BAD IT IS: Chrissy is asking Oprah to do a sit-down interview, so she can SAVE HERSELF!! Story HERE!!
Ripping The Tabloids (Throughout the week, we'll give you the stories from that weeks tabs!)
**Please Credit Publication!
Blair's Got the Blahs:  It's Over With Desiree-(National Enquirer)
Looks like former TV attorney Blair Underwood is in the market for a lawyer of his own!  The "L.A. Law" actor, 56, and Desiree DaCosta, his wife of 27 years, announced the end of their "beautiful journey" in a joint statement.  The estranged couple are parents to sons Paris, 24, and Blake 19, and daughter Brielle, 22.
Pete Spills "SNL" Secret-(Globe)
"SNL" funnyman Pete Davidson sure is smart for a "dumb" guy.  With Hollywood movie offers piling sky-high, talk is the 27-year-old's shot his last season of the NBC sketch show.  Now, the star's dishing a little dirt about the show that made him famous.  "The thing about "SNL" is you really don't have much of a say," reveals the comic.  "It's just, 'Hey, this is what you're going to do this week,' and you're like, 'Oh, cool.'"  But it's not all that bad, he insists.  "I do like the randomness of it and I usually play very dumb character.  So, it's very easy for me."
Rande & Cindy:  Sweet Celebration-(Us Weekly)
Going strong!  An insider says Rande Gerber, 59, went all out for his 23rd wedding anniversary to Cindy Crawford, 55, on May 29.  "He got her flowers and made her breakfast in bed and they later had a cozy romantic dinner," says the insider, adding that the secret to the duo's lasting love is mutual respect.  "Plus, Rande can still make Cindy laugh like nobody else."
Chip & Jo's Romantic Getaway-(Star)
The needed this!  Chip and Joanna Gaines celebrated their 18th wedding anniversary in Mexico-without kids Drake, 16, Ella, 14, Duke, 12, Emmie, 11, and Crew, 2.  "It was so nice to get away for a while especially with the new network taking up so much of their time," shares a source close to the Fixer Upper stars, now building the Magnolia Network.  "They didn't realize how stressed they've been until they got on the plane and let out big sighs."  Joanna, 42, posted pics of her and Chip, 46, hanging by the pool and enjoying an intimate sunset dinner.  "They held hands wherever they went and Chip was always complimenting Jo on how great she looked," the source continues.  "Even after all these years, they are just as in love as they were when they got married!"
Megan & MGK's Nonstop PDA-(Life & Style)
Machine Gun Kelly and Megan Fox are madly in love-and they aren't afraid to show it!  Since they started dating last year, the actress, 35, and the singer, 31, haven't been able to keep their hands off each other, licking one another's tongues on the red carpet and making out in music videos.  "There's no doubt that Megan and MGK have fallen head over heels for each other," says an insider.  "But every one of their friends agrees:  the PDA is TMI!"  Not even a recent run-in with the law could deter the couple.  New photos show Megan and Machine Gun Kelly locking lips in LA on June 2 after getting pulled over by the police on his motorcycle.  "Their friends are so happy for them, really they are," the insider insists.  "They just wish they'd give the public displays of affection a rest."
One Last Thing:  Salma Hayek-(People)
The actress, 54, returns as a con artist in the new sequel, The Hitman's Wife's Bodyguard.
Last time I sang out loud-
A little bit today.  Someone quoted Kenny Rogers, and then we just started singing, you know [she sings], "You've got to know….la la la la."  That's it, "The Gambler."
Last time a pet made me laugh-
My husband [Francois-Henri Pinault] said, "Did you get a new dog?"  Because he's always paranoid.  I look outside, and our Frenchie is playing with a fox!  She's the smallest dog I've ever had, but she's the boss.
Last recurring dream-
I dream a lot that I'm flying or levitating, where I just take off from Earth.  I love the sensation-just to know what it feels like.
Brad's Fresh Start-(In Touch)
It was the ruling Brad Pitt had been longing to hear for nearly five years.  In May, the judge presiding over his and Angelina Jolie's custody he's sought ever since Angelina blindsided him and filed for divorce in 2016.  Unwilling to accept the decision, Angelia, 46, claimed in a May 24 appellate court filing that the judge denied her a fair trial and improperly excluded evidence "relevant to the children's health, safety and welfare."  Brad was unfazed.  He fired back with his own filing, pointing out that the judge felt Angelina's testimony "lacked credibility in many important areas."  A source says, "There's no question in Brad's mind that he's won and the ruling will stand."
STUPID NEWS
David Bowie Painting Found In Thrift Store
A painting purchased for less than $5 at a Canadian thrift store is now up for auction after the artist was identified as music legend David Bowie.  Auctioneer Cowley Abbott said the painting was purchased for $4.09 from a donation center for household goods in South River, Ontario, and was subsequently discovered to have been painted by Bowie in 1997.  The auction house said the painting, titled D Head XLVI, is part of a series the singer created between 1994 and 1997.  "The sitters ranged from band members, friends, and acquaintances and there were also some self-portraits," Cowley Abbott spokeswoman Andrea McLoughlin said. "It has been suggested that, for some of these important paintings, Bowie drew inspiration from the Ziggy Stardust era. With long hair and a pronounced profile, this energetic and enigmatic portrait is truly a rare representation from a celebrated artist."   The painting is being sold as part of Cowley Abbott's International Art Online Auction and is expected to fetch a high bid of $9,000-$12,000.
*********How did the painting wind up in a thrift store?? Did Bowie clean out his rec room and say, "Take this stuff to Canada!!!"???
ANOTHER THRIFT STORE TREASURE!! What did YOU find?????

Commonly Misspelled Words By State
An analysis of Google Trends data identified the most commonly misspelled words in each state — with "quarantine" topping the list in 12 states.  AT&T Experts, an Internet and phone service vendor, analyzed Google Trends data from March 2020 to March 2021 to identify the most common searches beginning with "how to spell."  The data revealed "quarantine" was the most searched spelling word in Colorado, Connecticut, Indiana, Massachusetts, Minnesota, Missouri, Nevada, Oregon, Tennessee, Washington, Wisconsin and Wyoming. The analysis found the most common misspelling of "quarantine" was "corn teen."  "Coronavirus" was the most misspelled word in Illinois, Michigan, New Jersey, Pennsylvania, Vermont and West Virginia.  Other words making the list include "favorite" — Georgia, Iowa, Kentucky, Maryland, New Mexico, Ohio and Virginia — and "which" — Alabama, Arizona, Louisiana, Oklahoma and South Carolina.  Three states had trouble spelling "every," Hawaii, Mississippi and Montana. Three others, Nebraska, North Dakota and South Dakota, had the most trouble spelling "believe."
*********Conclusion?? Americans are dumb as a rock!!! Or is that "dumb as Iraq???"
*****Now you know why Americans invented spellcheck!!!
*****Now if we can just figure out "there, their and they're" and "it's and its!!!"
Kangaroo Caught In Texas
Authorities in Texas said a kangaroo spotted hopping loose through a neighborhood was safely captured and returned to its owner.  The Kendall County Sheriff's Office said deputies responded to the North Exchange area of Boerne on Tuesday morning when residents reported a small kangaroo hopping loose.  Deputies were able to capture the kangaroo with help from bystanders, the sheriff's office said.  Investigators said they were able to identify the kangaroo's owner and reunite them with their pet.
*********They found his I.D. in his pouch!!!
*****He was heading for breakfast at IHOP!!
Alligator Caught On Family Porch
Authorities in Florida said an alligator found trespassing on a family's porch got a free ride to a nearby lake in the back of a patrol car.  The Polk County Sheriff's Office said a pair of deputies were called out to an Eagle Lake home on Monday on a report of an alligator that decided to take up residence on a family's porch and refused to leave.  The deputies tied up the 5.5-foot gator and loaded it into the back of a patrol vehicle.  The deputies drove the alligator to Lake McLeod and released the reptile into the water.  See the pics HERE.
********Good!! We need more gators in Florida!!!
*******Who got the smell out of the back of the car???
*******The gator wanted to go viral on the Ring Doorbell Cam!!!
STUFF THAT'S COOL AND VIRAL
VIDEO: HIDDEN TRICK WITH AN ELECTRICAL OUTLET
VIDEO: ACTIVIST GETS CAUGHT IN WIRES LANDING AT SOCCER GAME.
A LIST FOR THURSDAY
Hey Google, How Do You Spell…Words?
Spelling is hard, even for the most articulate. How many "S"s are in Mississippi? Is it "there," "their," or "they're"? What does "I" before "E" except after "C" even mean? Even some of the most commonly used words can make us break our pencil or keyboard as we stumble over our letters. While the internet is full of answers to some of life's most important questions, we've been asking Google to help us spell words that are both simple in some respects and complicated in others. Whether we're getting our resume together for our next job opportunity or writing a letter to our best friends, proper spelling is essential when we want to be taken seriously.
We at AT&T Experts reviewed the top searched "how to spell" words by state from March 24, 2020 to March 24, 2021 using Google Trends. After diving into these numbers, we see each state has its own spelling struggles, though there is some commonality across the US. And while some of these entries may surprise you, others definitly definitely will not.
| Google inquiry | Number of states | Correct spelling | Most common misspelling |
| --- | --- | --- | --- |
| How to spell quarantine | 12 | quarantine | corn teen |
| How to spell favorite | 7 | favorite | favourite |
| How to spell coronavirus | 6 | coronavirus | Caronavirus |
| How to spell which | 5 | which | wich, witch |
| How to spell every | 3 | every | evary |
| How to spell believe | 3 | believe | beleive |
| How to spell definitely | 3 | definitely | definitly, definately, defiantly |
| How to spell separate | 2 | separate | seperate |
| How to spell eighty | 1 | eighty | eigty |
| How to spell receive | 1 | receive | recieve |
| How to spell government | 1 | government | goverment |
| How to spell pharaoh | 1 | pharaoh | paraoh, pharoh |
| How to spell piece | 1 | piece | peace |
| How to spell multiplication | 1 | multiplication | multiplycation |
| How to spell watch | 1 | watch | whatch |
| How to spell exercise | 1 | exercise | excersice |
| How to spell confident | 1 | confident | confidant |
| How to spell succeed | 1 | succeed | suceed |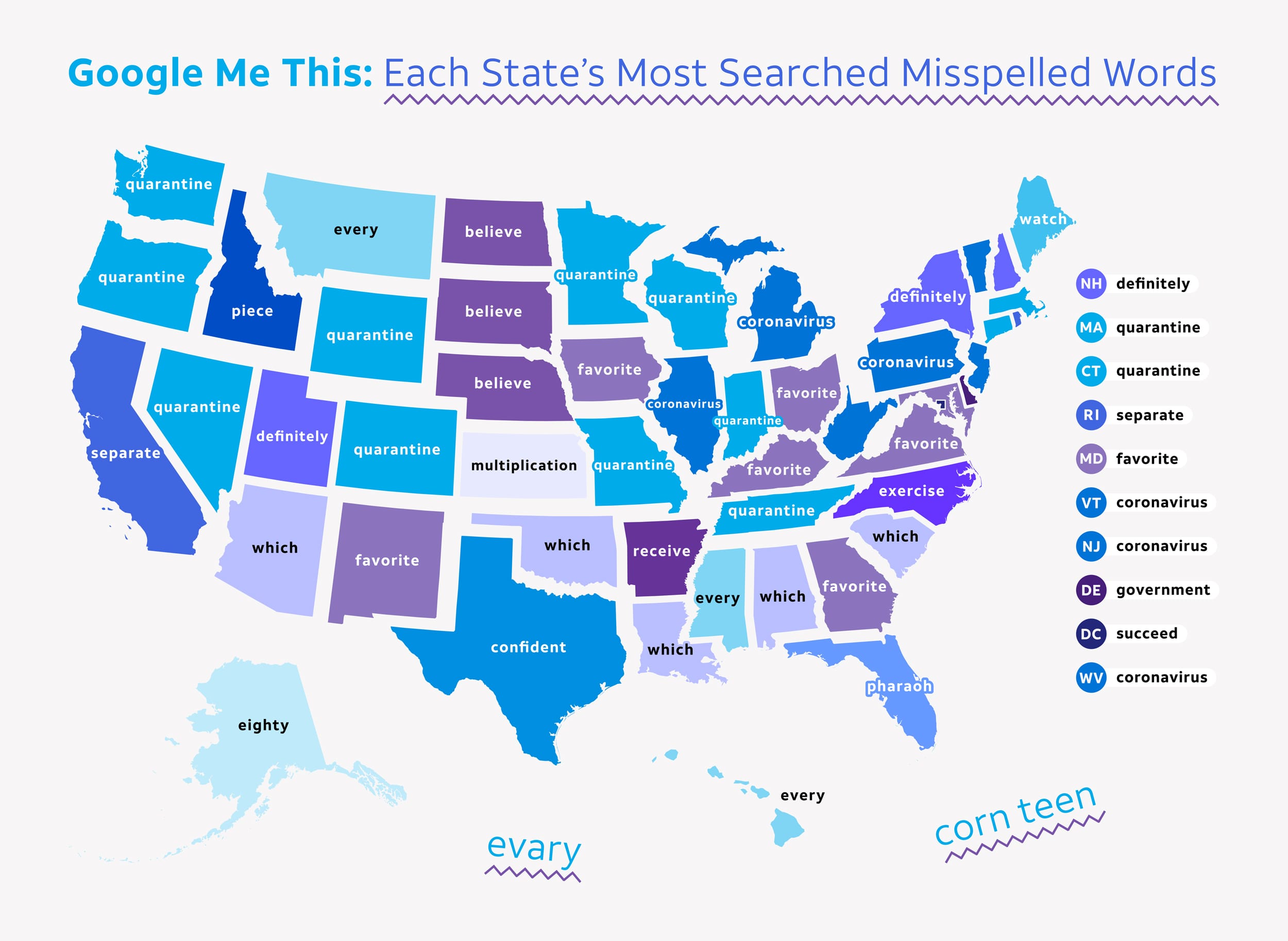 The preceding material was compiled and edited by Brandon Castillo.  The Editor-In-Chief is Gary Bryan.  The Radio Genius Show Prep Service is licensed for use on-air only by subscribing radio stations.  Other means of redistribution is forbidden.
© 2020 – Radio Genius Show Prep