Born on this day!! Rockabilly singer Wanda Jackson is 85. Actor-turned-nun Dolores Hart ("Where the Boys Are," "King Creole") is 84. Actor William Russ ("Boy Meets World," "Wiseguy") is 72. Actor Melanie Mayron ("thirtysomething") is 70. Director Danny Boyle ("Slumdog Millionaire," "Trainspotting") is 66. Actor Viggo Mortensen ("Lord of the Rings") is 64. Drummer Jim "Soni" Sonefeld of Hootie and the Blowfish is 58. Bassist Doug Eldridge of Oleander is 55. "The View" co-host Sunny Hostin is 54. Actor Kenneth Choi ("Sons of Anarchy") is 51. Rapper Snoop Dogg is 51. Country singer Jimi Westbrook of Little Big Town is 51. Actor-comedian Dan Fogler ("Fantastic Beasts," "The Walking Dead") is 46. Saxophonist Jon Natchez of The War on Drugs is 46. Actor Sam Witwer ("Smallville," "Battlestar Galactica") is 45. Actor John Krasinski ("The Office") is 43. Bassist Daniel Tichenor of Cage the Elephant is 43. Actor Katie Featherston ("Paranormal Activity") is 40. Actor Jennifer Nicole Freeman ("My Wife and Kids") is 37.
THIS DAY IN GENIUS HISTORY
1803 – The Senate ratified the Louisiana Purchase.
1944 – Gen. Douglas MacArthur returned to the Philippines, 30 months after he said "I shall return."
1947 – The U.S. House Un-American Activities Committee opened meetings about alleged Communist infiltration in the Hollywood film industry.
1964 – The 31st president of the United States, Herbert Hoover, died in New York at age 90.
1968 – Jacqueline Kennedy married Aristotle Onassis.
1973 – During the Watergate scandal, Attorney General Elliot L. Richardson and Deputy Attorney General William B. Ruckelshaus resigned and special prosecutor Archibald Cox was dismissed by President Nixon in what came to be known as the "Saturday Night Massacre."
2011 – Col. Muammar el-Qaddafi is killed by rebel troops in Surt, Libya, his hometown.
Today Is: Conflict Resolution Day, Get Smart About Credit Day, Get to Know Your Customers Day, International Chefs Day, International Credit Union Day, Miss American Rose Day, Spirit Day
TODAY ON TV!
Primetime TV (All Times Eastern)
CBS – 8:00 –  Young Sheldon  /  8:30 – Young Sheldon  / 9:00 – So Help Me Todd  /  10:00 – CSI: Vegas
NBC – 8:00 – Law and Order  /  9:00 – Law and Order SVU  /  10:00 – Law and Order Organized Crime
ABC – 8:00 –  Station 19  /  9:00 – Grey's Anatomy  /  10:00 – Alaska Daily
FOX – 8:00 – Hell's Kitchen  /  9:00 – Welcome To Flatch /  9:30 – Call Me Kat
CW – 8:00 – Walker  /  9:00 – Walker Independence
TV Talk Shows
Jimmy Fallon: Miles Teller, Idina Menzel, Babyface featuring Baby Tate (R 9/28/22)
Stephen Colbert: Anderson Cooper, Sosie Bacon (R 9/28/22)
James Corden: John Boyega, Sam Smith, Minnie Driver, Lior Suchard, Cat Burns (R 6/29/22)
Watch What Happens Live: BravoCon: Charming House Rules
The View: April Ryan, the Isley Brothers
The Talk: Danny DeVito, Lucy DeVito
Live with Kelly and Ryan: Tyler James Williams, Monica Mangin
Kelly Clarkson: Margaret Cho, Richard Marx
Tamron Hall: Natasha Graziano, Richard Marx
Drew Barrymore: Ralph Macchio, Dennis Rodman, Molly Yeh
Jennifer Hudson: Daymond John, Cheyenne Jackson
WHAT ARE YOU TALKIN' ABOUT? Here are today's PPM-Friendly Topics!
Arnold Schwarzenegger and Sylvester Stallone showed their playful sides on Tuesday with a photo of them carving pumpkins together.   "Happy Halloween  @officialslystallone," Arnold captioned the Instagram photo.  Sly reposted the photo, writing, "Myself and my great friend Arnold , @schwarzenegger spending time at his amazing office making Pumpkin Heads for Halloween. That's what real ACTION guys do with their free time! Lol…"  Of course, being action stars the pair used survival knives to craft their somewhat crude-looking Jack-o'-lanterns. "Rambo and Terminator Together..that's gonna be one kick-a– Halloween!" one commenter wrote and another suggested it's the "buddy comedy we need."   They each used survival knives in the movies "Commando" and "Rambo" and the friends have made a handful of films together, including "Escape Plan" and the "Expendables" series.
**********The Jack-o-Lantern faces look more realistic than theirs do!!
********What are the chances they actually carved those themselves?? Slim and none??
*******Next year, Rambo helps the Terminator find Sarah Connor!!!
****At his point, Sly and Arnold are BOTH asking Chris Pratt for career advice!!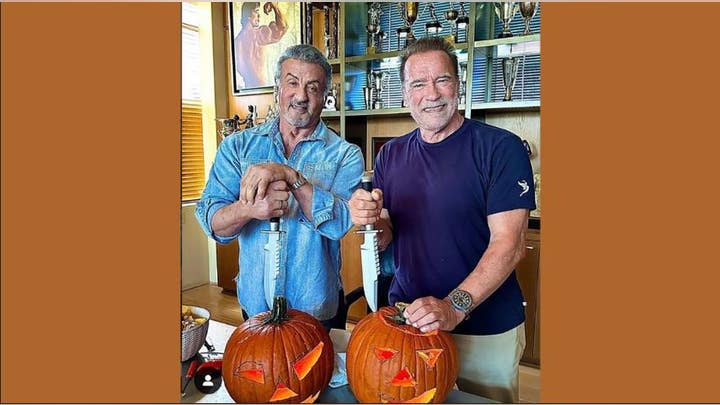 Meghan Markle is not happy with the direction her and Prince Harry's docuseries is taking.  She not only confirmed the existence of the docuseries but also suggested that she wished the director, Liz Garbus, had done it differently. "It's nice to be able to trust someone with our story — a seasoned director whose work I've long admired — even if it means it may not be the way we would have told it," Markle told Variety.  "But that's not why we're telling it. We're trusting our story to someone else, and that means it will go through their lens."  Netflix execs and the series' filmmakers were confused by the fact that some of the comments the Duke of Sussex makes in his upcoming book don't align with what they both say on camera.  "A lot in the show contradicted what Harry has written, so that was an issue," a senior Netflix source said.  "Then Harry and Meghan made significant requests [to filmmakers] to walk back content they themselves have provided, for their own project."
*******Netflix should ask for a refund!!!
********As they say in the Royal Family: "Get your story straight!!"
******Gee… does this mean they may just be making it all up??
Anna Faris revealed on her podcast "Anna Faris Is Unqualified" that Ivan Reitman, the late director of "My Super Ex-Girlfriend," "slapped my a—" during production and "yelled" at her on her first day, which left her "angry, hurt and humiliated."  "One of my hardest film experiences was with Ivan Reitman. I mean, the idea of attempting to make a comedy under this, like, reign of terror, he was a yeller. He would bring down somebody every day … and my first day, it was me," she said in a conversation with Lena Dunham about the way people behave on set. "I don't think you're the first person who's reported that. And I'm so sorry you had that experience. And did no one step in and say, 'No'?," Dunham replied.  "No. It was, like, 2006," Faris said. She has spoken in detail about the incident before — but never revealed the name of the director she was accusing. On an older episode of her podcast in 2017, Faris recalled one moment that left her so stunned, all she could do was "giggle."  "I was doing a scene where I was on a ladder and I was supposed to be taking books off a shelf and he slapped my ass in front of the crew so hard," she shared. "I remember looking around and seeing the crew members being like, 'Wait, what are you going to do about that? That seemed weird.'" "And that's how I dismissed it. I was like, 'Well, this isn't a thing. Like, it's not that big of a deal. Buck up, Faris. Like, just giggle.' But it made me feel small. He wouldn't have done that to the lead male," she continued. Faris also claimed in 2017 the "Ghostbusters" director told her agent she was hired because of her "great legs."
*********Wow… that's quite a compliment!!!
*****She'll have to prove it!! Can we dust her ass for fingerprints??
The restaurant industry has jumped to James Corden's defense after he was momentarily banned from Balthazar for being a "nasty" patron.  Renowned restaurateur Stratis Morfogen told TMZ that the "Late Late Show" host is one of the most pleasant and funny customers he has ever served. Morfogen also noted that Corden was so great, he couldn't even imagine the comedian being mean to employees at all.  Todd English, another well-known restaurateur, offered the same sentiments as Morfogen, calling Corden "absolutely lovely."  English told the outlet that Corden was "incredibly personable" to him and his staff when they traveled from his Olives restaurant in Las Vegas to cater Tony Awards afterparties.  Earlier this week, Balthazar owner Keith McNally called Corden the "most abusive" customer he's ever had and banned him from dining at the iconic French brasserie. "James Corden is a Hugely gifted comedian, but a tiny Cretin of a man. And the most abusive customer to my Balthazar servers since the restaurant opened 25 years ago," McNally claimed in an Instagram post on Monday.
******Have you seen his waistline?? He's one of their best customers!!
*********It takes a lot to get banned from a place that's $1,000 a plate!!
****McNally said, "Did I say James CORDEN?? I meant James CAAN!!"
Matthew Perry's addiction struggles became so severe that he "nearly died" a few years ago at age 49 when his colon burst from opioid overuse.  While he said at the time of his health scare that he suffered a "gastrointestinal perforation," he now admits that he actually spent two weeks in a coma and five months in the hospital and had to use a colostomy bag for nine months to treat the health crisis.  "The doctors told my family that I had a 2 percent chance to live," he told People.  "I was put on a thing called an ECMO machine, which does all the breathing for your heart and your lungs. And that's called a Hail Mary. No one survives that."  Now Perry will candidly discuss how much his drug and alcohol addictions consumed his life in his new memoir, "Friends, Lovers and the Big Terrible Thing," out Nov. 1.  "I'm pretty healthy now," he told the magazine, before joking, "I've got to not go to the gym much more, because I don't want to only be able to play superheroes. But no, I'm a pretty healthy guy right now."  Perry also said the 14 scars on his stomach — as well as the idea of wearing a colostomy bag for the rest of his life — serve as a reminder to never take Oxycontin again.
********That's called "Hitting a Personal Low!!"
Ripping The Tabloids (Throughout the week, we'll give you the stories from that weeks tabs!)
**Please Credit Publication!
Sabrina & Joshua Make Music Together-(National Enquirer)
Songbird Sabrina Carpenter, 22, and "High School Musical" hunk Joshua Bassett, 20, set social media afire when they were caught on camera at Harry Styles' Love on Tour concert in NYC.  It's the first time they've been spotted together in public since rumors flew about Joshua moving on with the blond beauty after his fizzled fling with "Drivers License" singer Olivia Rodrigo, 18.
Ellen Pompeo's Denzel Hell!-(Globe)
"Grey's Anatomy" diva Ellen Pompeo saw red when Oscar-winning actor Denzel Washington tried to put the egotistical actress in her place while guest-directing an episode of the TV medical drama.  "We went at it," says Ellen, confessing to a ferocious backstage fight during the show's 2016 season.  Ellen says it all started when she improvised a line in a critical scene "and Denzel went ham on my ass.  He was like, 'I'm the director.  Don't you tell another character what to do.'"  Silence on the set.  Ellen recalls she exploded, "I was like, 'Listen, mother***er, this is my show.  This is my set.  Who are you telling?'"  But Ellen now shrugs off the incident, saying fights and creative tension help make on-screen magic.  Yeah, right.
Dax & Kristen:  A Good Place-(Us Weekly)
Dax Shepard and Kristen Bell are the first to admit that relationships take work.  But the super honest duo-who'll celebrate their eighth wedding anniversary on Oct. 17-agree there's no one else they'd rather be with.  "They're so proud of the life they've made together," an insider says of Shepard, 46, and Bell, 41.  "It's still important for them to get space, but ultimately they're soulmates who have way more fun together than they do apart."
Emma's Billionaire Rebound-(Star)
Under his spell!  No sooner had Emma Watson split from boyfriend of two years, L.A.-based businessman Leo Robinton, than the Harry Potter star had already bounced back with new guy Brandon Green.  The 41-year-old, a son of British billionaire Sir Phillip Green (former owner of Miss Selfridge!), recently whisked the 31-year-old star off for a few days on his family's $100 million yacht.  Brandon is a big change for the "straight-laced" women's rights activist, insiders say, who friends thought was headed to the altar with Leo.  "Leo was eager to marry and start a family," says an insider, "but Emma was not ready to settle down."  No worries about that with partyboy Brandon.  "Emma loves spending time with him," adds the source.  "He's always surprising her with little gifts, and showering her with attention."
Say What?!-(Life & Style)
"I like whole grain toast with salt on it…..I'm not the most exciting eater, but I do like to have a drink with my dinner, and I can become a very good dinner guest."-Victoria Beckham, on her penchant for "boring" meals.
"The idea of me and Elijah Wood is the same……We don't actually look that alike.  But if you imagine all our component parts, we're just short, pale, blue-eyed, big-eyed, brown-haired people."-Daniel Radcliffe, on fans thinking he and the Lord of the Rings actor are doppelgangers.
"He loves clothes way more than I do.  He has great taste."-Gisele Bundchen, on quarterback hubby Tom Brady.
Italian Indies?-(People)
Harrison Ford posed with members of an Italian Indiana Jones fan club [all dressed in Indi gear from hat to leather jacket, etc.] during a break from filming the franchise's fifth installment in Cefalu, Sicily, on Oct. 9.
Poor Mom of the Week-(In Touch)
Amal Clooney
"He's mainly teaching pranks for the time being."
-on her husband George's lessons for their 4-year-old twins.
STUPID NEWS
Fishy Highway
A North Carolina highway was partially closed Tuesday morning when a crashed truck spilled 22,000 pounds of fish into the roadway.  The North Carolina Department of Transportation said the truck overturned before 5:45 a.m. Tuesday on Interstate 95, in the Exit 61 area near Godwin.  The tractor-trailer lost its load of 22,000 pounds of catfish into the northbound lanes, sparking an hours-long clean-up operation.  The driver was examined at the scene by Emergency Medical Services and was found to be uninjured.  See the video HERE.
*******It really smelled!! As one driver said, "Oh, my Cod!!!"
*******A local traffic reporter said, "Stay tuna'ed!!!"

Cab Driver Collects IOU 9 Years Later In Ireland
A former New York City cab driver visited a bar in Ireland to collect the two pints of Guinness he was owed from an IOU given to him by a passenger nine years earlier.  John McDonagh was driving his cab in New York at 4 a.m. in 2013 when he picked up Shane Gaffney, a Dublin resident who did not have the cash to cover his ride.  "He said he owned a bar in Dublin and I said, 'Yeah, everybody owns a bar in Dublin,'" McDonagh told WNYW-TV. "But he says, 'No, I can get you some free pints of Guinness.'"'  The men determined the cab ride was worth about two pints of Guinness at the 2013 exchange rate between the dollar and the euro, so Gaffney wrote McDonagh an IOU promising two pints at the Gaffney and Son Pub in Dublin. McDonagh finally made his way to Ireland nine years later, while touring Off the Meter, On the Record, his one-man play about his nearly 40 years as a cabbie.  Gaffney and his parents were at the bar to welcome McDonagh.  See the video HERE.
*********He had used that line many times, but this is the only cab driver who ever showed up for the payoff!!
*******Ireland is also known by the nickname "Ginger Heaven!!"
*******The main occupation in Ireland is "horizontal barroom floor inspector!!"
Are You A Mosquito Magnet?
A new study finds that some people really are "mosquito magnets" and it probably has to do with the way they smell.  The researchers found that people who are most attractive to mosquitoes produce a lot of certain chemicals on their skin that are tied to smell. And bad news for mosquito magnets: The bloodsuckers stay loyal to their favorites over time. "If you have high levels of this stuff on your skin, you're going to be the one at the picnic getting all the bites," said study author Leslie Vosshall, a neurobiologist at Rockefeller University in New York.  There's a lot of folklore about who gets bitten more but many claims aren't backed up with strong evidence, said Vosshall. To put mosquito magnetism to the test, the researchers designed an experiment pitting people's scents against each other, explained study author Maria Elena De Obaldia. Their findings were published Tuesday in the journal Cell.  They asked 64 volunteers from the university and nearby to wear nylon stockings around their forearms to pick up their skin smells. The stockings were put in separate traps at the end of a long tube, then dozens of mosquitos were released.
*********We'd like to thank those people for keeping the mosquitos away from US!!
TOPIC: There are two kinds of people, people who attract mosquitos and people who don't! Which one are YOU?
Florida Woman Takes Selfie During Traffic Stop
A Florida woman was arrested Sunday morning after speeding through a checkpoint, deputies said.  She continued down Hickory Boulevard before making a U-turn and driving back through the checkpoint at a high speed.  The sheriff's office said a deputy got into his patrol car and tried to pull Peters over, who "continued to drive erratically, slowing down, speeding up, and swerving out of the lane."  According to authorities, Peters finally stopped, but while the deputy called for backup, he saw her take a selfie before driving off again when the deputy exited his vehicle.   "This is yet another example of how teamwork led to putting a criminal behind bars, where they belong," Sheriff Carmine Marceno said. "This woman's actions behind the wheel show that she truly has no regard for the safety of others."  Deputies said Peters was charged with two counts of fleeing and eluding, driving under the influence.
**********She was released under the "Florida Women Can Do No Wrong" statute!!!
*****If only taking selfies was against the law, 90% of all women would be in jail!!
STUFF THAT'S COOL AND VIRAL
VIDEO: TRAIN COLLIDES WITH TRUCK.
VIDEO: HOW FIGHTER JET EJECTION SEATS WORKS.
A LIST FOR THURSDAY
7 Ways to Get a Pumpkin Spice Latte for Less
HUFFINGTON POST
Join Starbucks Rewards
Join Starbucks Rewards  to start getting free drinks — including PSLs. Earn one star per $1 you spend. When you have 150 stars, you can redeem them for a free PSL or any handcrafted drink of your choice.
While that may seem like a good chunk of change to spend to get a reward, remember that it's pretty easy to rack up a bill at Starbucks without even realizing it. That extra shot of espresso, added flavor and morning bagel all come at a cost. You can even offer to pay for friends and let them Venmo you or pay you back with cash. Plus there are other perks to the rewards program, such as free refills of brewed coffee or tea. (And if you just can't quit Starbucks, these Starbucks hacks can save you money on your habit.)
Buy Discounted Starbucks Gift Cards
Websites such as Raise or Gift Card Granny and others can stretch your coffee dollars further. Just buy a gift card for less than its face value, and you'll get more for your money anywhere making PSLs.
Join My Panera
Panera has a perks program, too. Join My Panera to get discounts and other customer rewards such as a free PSL.
Join Krispy Kreme Rewards 
At Krispy Kreme, dollars equal doughnuts, as well as custom coffees. You get a free doughnut when you join and after about a dozen purchases, you can score a free pumpkin spice latte.
Celebrate Your Fall Birthday
If you're a member of Starbucks Rewards, you'll enjoy a free drink on your birthday. Why not make it a pumpkin spice latte?
Dunkin Donuts also offers free birthday drinks through its DD Perks Rewards program and has an extensive pumpkin spice menu.
Many other cafes also offer free birthday drinks, so if you find yourself at a coffee shop with pumpkiny concoctions on your birthday, be sure to ask!
Make a DIY Pumpkin Spice Latte
Indulge in a pumpkin spice latte anytime with this great do-it-yourself recipe from Farmgirl Gourmet. This recipe makes two 10-ounce lattes, so you can share one with a friend.
You'll need:
2 cups milk
4 tablespoons canned (orhomemade) pumpkin puree
2 tablespoons white sugar
2 tablespoons vanilla extract
1/2 teaspoon pumpkin pie spice
1/2 cup strong coffee or espresso
whipped cream
Directions:
Stir the milk, pumpkin puree, sugar, vanilla and pumpkin pie spice together in a pan over medium-high heat. Bring it almost to a boil, but avoid boiling (that will make it too thick). Stir constantly, and it should start to froth in about a minute.
Pour the concoction into two mugs, then slowly add the strong coffee or espresso, pouring it in by the edge of the cup so that the milk stays frothy. Add whipped cream and a dash of pumpkin pie spice on top, and indulge in your homemade creation.
Make DIY Pumpkin Spice Coffee Creamer
This simple recipe from Delish requires just five ingredients and produces 1-3/4 cups of pumpkin spice creamer to add to your coffee.
You'll Need:
1-1/2 cups heavy cream or half-and-half
2 tablespoons pumpkin puree
2 tablespoons pure maple syrup
1/2 teaspoon pumpkin pie spice
1 or 2 cinnamon sticks
Directions:
Whisk together the heavy cream or half-and-half, pumpkin puree, maple syrup and pumpkin pie spice in a small pan over medium heat. Add a cinnamon stick or two and turn the heat up a bit until it boils, whisking occasionally.
After a minute, take it off the heat and let it cool for about five minutes before you add it to your coffee.
The preceding material was compiled and edited by Brandon Castillo.  The Editor-In-Chief is Gary Bryan.  The Radio Genius Show Prep Service is licensed for use on-air only by subscribing radio stations.  Other means of redistribution is forbidden.
© 2022 – Radio Genius Show Prep