Born on this day!!  Jazz drummer Billy Cobham is 79. Actor Danny Trejo is 79. Actor Bill Smitrovich ("Crime Story," "Life Goes On") is 76. Actor Pierce Brosnan is 70. Actor Debra Winger is 68. Actor Mare Winningham is 64. Violinist Boyd Tinsley of The Dave Matthews Band is 59. Bassist Krist Novoselic (Nirvana) is 58. Singer Janet Jackson is 57. Actor-singer Scott Reeves ("Nashville," ″General Hospital") is 57. Actor Brian F. O'Byrne ("Million Dollar Baby") is 56. Singer Ralph Tresvant is 55. Actor David Boreanaz ("Bones," ″Buffy the Vampire Slayer") is 54. Political commentator Tucker Carlson is 54. Actor Tracey Gold ("Growing Pains") is 54. TV personality Bill Rancic ("America Now," ″The Apprentice") is 52. Country singer Rick Trevino is 52. Actor Khary Payton ("The Walking Dead") is 51. Rapper Special Ed is 51. Actor Tori Spelling is 50. Actor Sean Carrigan ("The Young and the Restless") is 49. Rapper B. Slade (A.K.A. Tonex) is 48. Actor Melanie Lynskey ("Two and a Half Men") is 46. Actor Joseph Morgan ("The Originals," ″Vampire Diaries") is 42. DJ Alex Pall of The Chainsmokers is 38. Actor Megan Fox ("Transformers") is 37. Actor Drew Roy ("Falling Skies," ″Hannah Montana") is 37. Actor Jermaine Fowler ("Superior Donuts") is 37. Actor Thomas Brodie-Sangster ("Game of Thrones") is 33. Actor Marc John Jefferies ("The Tracy Morgan Show") is 33. Actor Miles Heizer ("13 Reasons Why," ″Parenthood") is 29.
THIS DAY IN GENIUS HISTORY
1770 – Marie Antoinette married the future King Louis XVI of France.
1868 – The first ballot on one of 11 articles of impeachment in the U.S. Senate failed to convict President Andrew Johnson.
1929 – The first Academy Awards were given on this night. The term, Oscars, was not used to describe the statuettes given to actors and actresses until 1931.
1946 – The Irving Berlin musical, Annie Get Your Gun, opened on Broadway.
1975 – Japanese climber Junko Tabei became the first woman to summit Mount Everest.
1991 – Queen Elizabeth II became the first British monarch to address the United States Congress.
1997 – President Mobutu Sese Seko of Zaire was expelled from the country by Laurent Kabila and his troops, ending 32 years of autocratic rule.
Today Is: Biographer's Day, Honor Our LGBT Elders' Day, International Day of Light, International Day of Living in Peace, Mimosa Day, NASCAR Day Give-a-thon, National BBQ Day, National Piercing Day, National Sea Monkey Day
TODAY ON TV!
Primetime TV (All Times Eastern)
CBS – 8:00 – FBI / 9:00 – FBI International / 10:00 – FBI Most Wanted
NBC – 8:00 – Night Court / 8:30 – Night Court  / 9:00 – The Wall / 10:00 – Weakest Link
ABC – 8:00 – Jeopardy Masters  /  9:00 – Judge Steve Harvey / 10:00 – Celebrity Family Feud
FOX – 8:00 – 911 Lone Star
CW – 8:00 – Superman and Loris / 9:00 – Gotham Knights
TV Talk Shows
Jimmy Kimmel: Viola Davis, Julius Tennon, Brett Goldstein, Daniel Caesar (R 3/30/23)
Jimmy Fallon: Millie Bobby Brown, Michael Imperioli, Tegan and Sara (R 10/27/22)
Stephen Colbert: Janet Yellen, Rob Delaney (R 11/30/22)
Seth Meyers: Courtney Love, John Early, Masa Takayama (R 6/6/17)
James Corden: Colin Farrell, Brendan Gleeson, Chris Martin (R 3/2/23)
Watch What Happens Live: Teresa Giudice, Leslie Bibb
Daily Show: Pre-empted
The View: Rita Moreno, Kelly McCreary
The Talk: Gabriel Iglesias, Olivia Liang (R 10/18/22)
Live with Kelly and Mark: Joel McHale, Alfonso Ribeiro
Drew Barrymore: George Clooney (R 10/21/22)
Jennifer Hudson: Jeannie Mai Jenkins, Robin Thede
WHAT ARE YOU TALKIN' ABOUT? Here are today's PPM-Friendly Topics!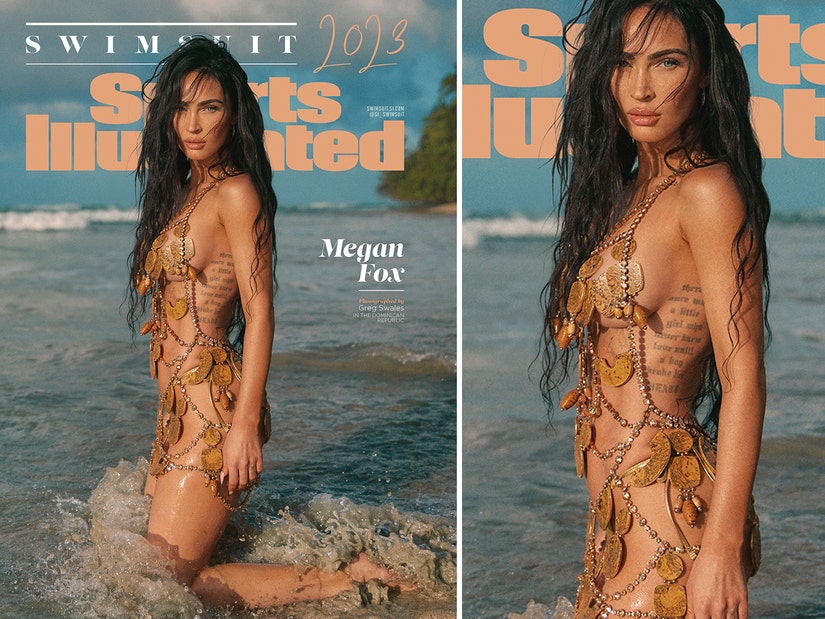 *********Blake wanted to continue, but he just couldn't work with his wife!!!
****The judging panel is Reba. Niall Horan, Gwen Stefani and John Legend, who all have a lot of free time!!!
******She says she was offered a spot on the original judging panel and turned it down!! Dumb move!!
****This is almost like Brian Dunkelman getting a second chance on American Idol!!
****Oh yeah, baby!! That'll have a lot of red-blooded young men heading to the newstand!! Not!!
*****Meanwhile, Scientific American just found some dirt that's younger than Martha!!
******Who's hotter: Dylan Mulvaney or Martha Stewart?? Because apparently, those are our choices these days!!
******The more "inclusive" these things become, the "excluded" we feel!!!
******If we could transplant Martha's personality into Megan's body??? Now we got something!!
Martha Stewart is continuing to make her mark — this time on the cover of the 2023 SI Swimsuit issue!https://t.co/WqY9v7EwQR

— Sports Illustrated Swimsuit (@SI_Swimsuit) May 15, 2023
********This is why his family keeps telling you he's out of the hospital doing "great!!" If he's really not doing well, these deals will go away!!
******We really hope we're wrong!!
****Here's our question: If he's been home for weeks and he's playing pickleball, where's the video???
UPDATE!! TMZ reports Jamie is in a top physical rehab center in Chicago that specializes in stroke victims. He's been there since mid-April!! Get the story HERE!!
*****Of course her marriage is self-destructing. Next question??
*****Isn't TMZ the one who promoted the "Free Britney" movement?? And now they're profiting off all her problems?? That's what we thought!!
*******Everyone knows she needs help.. but they're all cashing in!!
*********For one thing, they'll replace that heavy crown with a hologram!! That's an update!!
********Instead of a horse-drawn carriage, they'll arrive in a flying Rolls Royce!!!
******He won't be anointed with oil. He'll simply be tattooed with the words, "Old Guys Rule!!"
****And the song that salutes the Queen will be changed from "We Love Regina" to "We Love Vagina!!" 
TABLOID FODDER
Loose Talk-(Us Weekly)
"Maybe it's hairy men.  I seem to be the only person in L.A. in the last 15 years who has body hair.  Maybe that's a thing.  Like, 'Whoa, what's this?  This is new!'"-On his surprising sex symbol status, Brett Goldstein.
"It was a nice role reversal.  Certainly makes stunt work a lot easier because you just have to panic."-On finally playing a character that needs saving in Ghosted, Chris Evans.
"They don't want to see me sad and they don't want to see me in a romance.  They don't love seeing me play someone else's mom, honestly."-On how her three kids react to her projects, Jennifer Garner
PHONE TOPIC STARTERS
Who's more famous: J Lo or Ben Affleck?
Toupee or not Toupee?? What's worse.. feeling ashamed of being bald, or everyone knowing you're so vain??
BRO HUG FAILS?? Ever go in for the bro hug and discover that your buddy is VERY uncomfortable with that??
STUPID NEWS
See the video HERE.
*******The tortoise is female and weighs over 60 pounds!! She's so fat she can barely move!!!
******Of course, EVERYONE in Chicago is fat!! It's the deep dish pizza!!
*******In the video, she's lounging by the river on a pile of fishing tackle.. and she can't get off!!
********It works with a 20-gallon keg that has a heating coil. Then the engine runs on the beer steam!! It can go up to 150 mph!!
******OK, Elon Musk: Your move!!
****He tried using Bud Light, but everyone refused to ride it!!
********He looked around Florida and decided that underwater was a better place to be!!
*****Doctors say he's in great shape, but he may be pruney for the rest of his life!!
*********We looked at our bank account and realized WE'VE been underwater for the past year!!
*********Do wedding photos come with a "no divorce guarantee??"
*****She was married for FOUR YEARS and told him, "You did a wonderful job, but we don't need the pictures anymore so I'll be needing a refund!!"
*******As you thought, she won't be getting her money back!!
******She does win the Guinness World Record for "Biggest Balls on a Woman!!"

STUFF THAT'S COOL AND VIRAL
VIDEO: SHARK ATTACKS KAYAK OFF THE COAST OF HAWAII.
A LIST FOR TUESDAY
Underrated U.S. Capital Cities Worth A Visit
HUFFINGTON POST
1 – Providence, Rhode Island
It may be the capital of the nation's smallest state, but Providence packs a big punch when it comes to cultural cachet. The charming city boasts a top-notch culinary scene with offerings ranging from the classic Italian spots on Federal Hill to the eclectic eateries over in the West Side.  Visitors can take a gondola ride along the Providence River, stroll through historic neighborhoods and take in the art scene around the Rhode Island School of Design's impressive museum and campus.
2 – Helena, Montana
The "Queen City of the Rockies," Helena offers ample opportunities for outdoor recreation with its epic hiking and biking trails, natural hot springs and nearby ski area. And, of course, the Missouri River is a famous destination for fly-fishing and boat excursions.  As for cultural attractions, the city's gold rush roots are evident in the architecture and historic sites around the city. Helena also has a booming local microbrewery scene and plenty of art galleries.
3 – Sacramento, California
Sacramento often gets overlooked in favor of more popular California travel destinations like San Francisco, Los Angeles, San Diego, Santa Barbara and Monterey. But the vibrant capital city has plenty of attractions that showcase its unique history and culture. Museum lovers have plenty to soak up between the California State Railroad Museum, California State Capitol Museum and Crocker Art Museum, while gastronomes can enjoy the many "farm-to-fork" restaurants and wineries. And outdoor enthusiasts will find lots of options for hiking, biking and water sports, thanks to the city's location on the banks of the Sacramento River and proximity to the Sierra Nevada mountains.
4 – Montgomery, Alabama
Montgomery played a significant role in the Civil Rights Movement and is home to several important historic sites. The Rosa Parks Library and Museum is located near the stop where the activist boarded a bus in 1955 and made history by refusing to give up her seat. Martin Luther King Jr. helped organize the famous Montgomery bus boycott while he was a pastor at Dexter Avenue Baptist Church.  There's also The National Memorial for Peace and Justice, which honors Black victims of lynching, and the nearby Legacy Museum, which details the history of slavery, mass incarceration and racism in the U.S.  Additionally, the city has a thriving arts and culture scene, as well as a number of great restaurants and bars.
5 – Olympia, Washington
Located about 60 miles south of Seattle, Olympia is a true hidden gem of the Pacific Northwest. Visitors are treated to magnificent views of the Mt. Rainier and the Olympic Mountain Range, and can schedule excursions if they want to see them up close.  In addition to the many city park spaces and hiking trails for outdoor adventurers, Olympia is also home to a dynamic creative scene, with a large public art collection and numerous museums and galleries. The capital city was the birthplace of riot grrrl music, and independent artists still thrive there today. Don't forget to try some fresh-caught seafood during your visit as well.
6 – Des Moines, Iowa
Traditionally, the Hawkeye State has gotten a lot of attention around presidential primary season, but otherwise, it's not a particularly popular travel destination. The capital city of Des Moines, however, has lots to offer on the tourism front — from the famous Iowa State Fair (butter cow included) to the gold-domed Capitol building.  Should you find yourself in Des Moines, you may also experience the region's strong agricultural tradition at the top-notch farmers markets and farm-to-table restaurants. And the dive bar and brewery scene is large enough to keep visitors occupied for quite some time.
7 – Augusta, Maine
Founded as an English trading post in the 17th century, Maine's capital of city Augusta is an excellent destination for history lovers. The Maine State Museum, Maine State House and Viles Arboretum are popular attractions, but perhaps the most interesting site is Old Fort Western — the oldest surviving wooden fort in the U.S.  Located on the banks of the Kennebec River, Augusta also boasts plenty of opportunities for outdoor adventure, including hiking, biking and in the winter, cross-country skiing.
8 – Carson City, Nevada
Sure, Las Vegas tends to attract most visitors to the state of Nevada, but there's plenty to do in the capital city. Located near Lake Tahoe and the Sierra Nevada Mountains, Carson City is known for its scenic views and outdoor recreation, so whether you're into hiking, mountain biking, equestrian, off-roading or hot spring relaxation, there's something for you.  Those interested in Old West history can learn about the birth of Nevada and Carson City at the Nevada Capitol Building, Nevada State Museum and the Nevada State Railroad Museum, as well as the number of Victorian-style homes around the city's historic district. And golfers will no doubt be eager to check out the "Divine Nine" courses. As it is Nevada, casinos are of course an option for tourists in Carson City as well.
9 – Little Rock, Arkansas
The historical significance of Arkansas' capital city cannot be overstated. Little Rock Central High School is now a U.S. National Historic Landmark and National Historic Site that tourists can visit to learn about the Little Rock Nine and the school's role in the Civil Rights Movement and desegregation.  Additionally, the William J. Clinton Presidential Library is a top attraction where visitors can explore the history of President Bill Clinton's rise to power and the major events of his administration and post-White House life. For more political history, check out the Arkansas State Capitol and Governor's Mansion. Or stretch your legs with a hike at the nearby Pinnacle Mountain State Park.
10 – Boise, Idaho
Set against a stunning Rocky Mountains backdrop, Boise is a charming city with ample indoor and outdoor attractions. Explore the thriving culinary scene, with several James Beard semifinalists, microbreweries and an urban wine trail that meanders along the River Greenbelt, a beloved park with a 25-mile tree-lined trail right through the heart of the city.  The Idaho capital is also known for its Basque community, whose epicenter is at the Basque Block. There you can visit the Basque Museum and Cultural Center and sample the delicious pintxos and cocktails at one of the many great restaurants. Be sure to check the local events schedule for a variety of concerts, festivals, sporting events, theater performances and more.
The preceding material was compiled and edited by Brandon Castillo.  The Editor-In-Chief is Gary Bryan.  The Radio Genius Show Prep Service is licensed for use on-air only by subscribing radio stations.  Other means of redistribution is forbidden.
© 2023 – Radio Genius Show Prep