Born on this day!! TV personality David Hartman is 86. Actor James Fox is 82. Actor Nancy Kwan is 82. Musician Pete Townshend is 76. Singer-bassist Dusty Hill of ZZ Top is 72. Singer-actor-model Grace Jones is 70. Drummer Phil Rudd AC/DC is 67. Actor Steven Ford is 65. Actor Toni Lewis ("Homicide," ″Oz," ″As the World Turns") is 61. Guitarist Iain Harvie of Del Amitri is 59. Actor Jason Gray-Stanford ("Monk") is 51. Singer Jenny Berggren of Ace of Base is 49. TV personality Kim Zolciak Biermann ("Real Housewives of Atlanta") is 43. Singer Shooter Jennings is 42. Comedian Michael Che ("Saturday Night Live") is 38. Guitarist Tim McTague of Underoath is 38. Guitarist James Richardson of MGMT is 38. Actor Eric Lloyd ("The Santa Clause") is 35. Singer Sam Smith is 29. Actor Nolan Lyons ("Boardwalk Empire") is 20.
THIS DAY IN GENIUS HISTORY
1536 – Anne Boleyn, the second wife of King Henry VIII, was beheaded.
1588 – The 130-ship-strong Spanish Armada set sail for England; it was defeated in August.
1643 – The colonies of Massachusetts Bay, Plymouth, Connecticut, and New Harbor met to form the New England Confederation.
1921 – Congress passed the Emergency Quota Act, establishing national quotas for immigrants.
1928 – The first annual Calaveras County "Frog Jumping Jubilee" was held in Angel's Camp, California.
1935 – British author and soldier, T. E. Lawrence, also known as "Lawrence of Arabia," died from injuries sustained in a motorcycle crash.
1962 – Marilyn Monroe sang "Happy Birthday" to president John F. Kennedy.
1992 – The 27th Amendment to the Constitution, which prohibited Congress from giving itself midterm pay raises, went into effect.
1994 – Jacqueline Kennedy Onassis died in New York.
Today Is: Boys Club Day, Buddha Day, EMSC (Emergency Medical Services) Day, Emergency Medical Services for Children Day, May Ray Day, National Hepatitis Testing Day, National Asian & Pacific Islander HIV/AIDS Awareness Day, National Employee Health & Fitness Day, National Juice Slush Day, National Scooter Day, Turn Beauty Inside Out Day, World IBD Day
TODAY ON TV!
Primetime TV (All Times Eastern)
CBS – 8:00 –  Kids Say The Darndest Things  /  9:00 – SEAL Team  /  10:00 – SWAT
NBC – 8:00  – Chicago Med  / 9:00 – Chicago Fire  /  10:00 – Chicago PD
ABC – 8:00 –  The Goldbergs  /  8:30 – Home Economics  /  9:00 – The Conners  /  9:30 – Call Your Mother  /  10:00 – A Million Little Things
FOX – 8:00 – The Masked Singer  /  9:00 – Game Of Talents
CW – 8:00 –  Kung Fu  /  9:00 – Nancy Drew
TV Talk Shows
Jimmy Kimmel: Don Cheadle, Patti Harrison, Lake Street Dive
Jimmy Fallon: Blake Shelton, Horatio Sanz, Regard, Troye Sivan & Tate McRae
Stephen Colbert: Lisa Kudrow, Tamika Mallory
Seth Meyers: Sen. Bernie Sanders, Action Bronson, Brian Frasier-Moore
James Corden: Eric Bana
Lilly Singh: Eitan Bernath
Conan: Charles Barkley
Watch What Happens Live: Lisa Rinna, Sutton Stracke, Dorit Kemsley, Crystal Kung Minkoff, Garcelle Beauvais, Kyle Richards
The View: John Stamos, Dorothy A. Brown
The Talk: Guest co-hosts Jerry O'Connell & David Begnaud
Live with Kelly and Ryan: Wilmer Valderrama
Ellen DeGeneres: Stacey Abrams, Dave Bautista, Lady A
Wendy Williams: Dr. Drew Pinsky
The Real: La La Anthony, Sutton Stracke
Kelly Clarkson: Wanda Sykes, Mike Epps, Simu Liu, Tom Jones
Tamron Hall: Billy Porter
Drew Barrymore: Nina Dobrev, Julianne Hough, David Begnaud
WHAT ARE YOU TALKIN' ABOUT? Here are today's PPM-Friendly Topics!
A man who says he bought a "This Smells Like My Vagina" candle from Gwyneth Paltrow's Goop company claims it could have killed him when it exploded.  According to the legal docs, obtained by TMZ, the guy suing is a Texas resident named Colby Watson, and he says he purchased the 10.5-ounce 'Vagina' candle online in January.  He claims he lit the candle for the first time in February and placed it on his nightstand — a level surface — and insists there was nothing close to touching the candle and no open windows or drafts in his bedroom.  Watson claims, after burning for "an estimated three hours or less," the candle became engulfed in high flames and exploded soon afterward … and the room was filled with smoke.  Watson alleges the candle also left a black burn ring on his nightstand and says the jar is charred and black.  According to the docs, Watson acknowledges the candle comes with a "limited warning" on Goop.com — including cautioning not to burn the candle for more than 2 hours at a time — but he says that warning is insufficient.  Watson claims Goop fails to warn that the candle could cause significant injuries when it explodes, and he calls the 'Vagina' candles "inherently dangerous."  He's suing Paltrow's company for breach of warranty and products liability and is trying to put together a class seeking damages exceeding $5 million.
********Is there really a guy who doesn't know vaginas are dangerous???
*******Chris Martin looked at the smoke damage and said, "Yep, that's pretty much what her vagina smells like!!"
******Tip: don't look up "explodingvagina.com!!"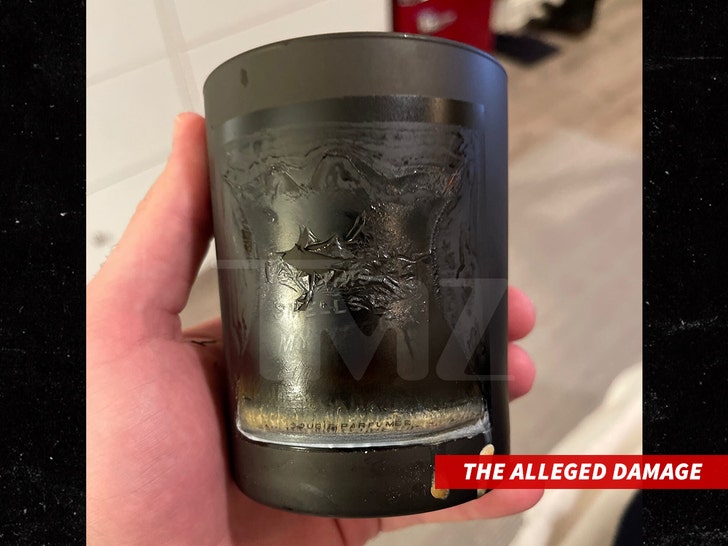 Kim Kardashian won an item worn by Janet Jackson in the "Doesn't Really Matter" 1993 music video for her record, "If" and Kardashian honored Jackson in a social media post for her 55th birthday.  "Happy birthday queen!" Kardashian wrote on her Instagram Story, according to People magazine, alongside a clip of Jackson wearing the ensemble. "For @janetjackson's bday bc I'm such a fan I can't believe I won this on juliens_auctions."  Jackson responded to Kardashian in her own Instagram Story. "Thank u so much @kimkardashian! I hope 'IF' gives u as much pleasure as it did me," she wrote along with three kissing face emojis.  According to the outlet, the three-day auction, titled, "Iconic Treasures From the Legendary Career and Life of Janet Jackson," was held to commemorate Jackson's birthday and two days before Kardashian posted the birthday tribute to Janet.  The auction house had announced that the outfit – a custom-made cropped suede top with artificial bone detailing and a pair of black lace-up front pants — had sold for $25,000.
*********These are things that only rich people say to each other!!
********Actually, Kim could buy JANET if she wanted to!! But that would be politically incorrect!!
********We wonder.. will Kim try to squeeze into that outfit???
NBC unveiled its 2021 fall TV slate this week and it is decidedly lacking for funny shows.   The network is doubling down on Dick Wolf dramas like "Law & Order" and the "Chicago" series. Meanwhile, new original dramas such as "Ordinary Joe" and "La Brea" will help round out the fall calendar. However, for the first time in several decades, none of the new shows people can look forward to this year include half-hour comedies.   According to The Hollywood Reporter, Susan Rovner, chairman of entertainment content for NBCUniversal Television and Streaming, told the outlet Friday that the lack of comedies on the fall schedule for the first time in 50 years does not mean the network is going in a new direction.  "In recent years our comedies haven't performed as well in the fall, so we're doubling down in midseason with two big nights of comedy," she said.
********Could it be.. that nothing is funny anymore?
Nick Jonas is recovering after cracking a rib in a bike accident.  He said on Monday's episode of "The Voice" that he also sustained some "bumps and bruises."  "I'm feeling OK," he said before the Top Nine live performances kicked off. "I've been better, but I'm doing all right.  "I cracked a rib from a spill on a bike and a few other bumps and bruises, but I just want to go ahead and say that, in case I'm not as physically enthusiastic as I usually am," he explained. "Blake, please don't make me laugh too much because it kind of hurts."  Naturally, fellow coach Blake Shelton joked that Jonas was merely trying to gain "sympathy points."  "I'm glad to be here," Jonas replied.  He was hospitalized over the weekend after sustaining an injury on the set of a secret project, TMZ reported Monday. The nature of the injury was unknown at the time.
*******He should go to "America's Got Talent." NOTHING is funny over there!!!
Sharon Stone is not pleased about the director's-cut version of the 1992 erotic thriller "Basic Instinct," in which she starred, but she's entirely unable to stop its release.  "They've decided to release the director's XXX cut for the 30th anniversary," he said recently on the Australian show "A Current Affair," according to the Daily Mail. When host Tracy Grimshaw asked directly if Stone, who has for years said she was exploited during the film's production, could possibly prevent the new version from coming out, Stone said no. But if the film had been made today, she noted, she might be able to.  "There are new [Screen Actors Guild] rules about that that have been made and created, but they were made after I, as a young lady, made this film, and so they don't apply to me," said Stone, who was 34 when the flick, her breakout hit, was released. Despite her beef with the movie — especially the infamous scene in which Stone uncrosses her legs during a police questioning — Stone categorically does not believe in regrets, and makes no exception here.  "Regrets are like farts: You can't get them back. Once they're out, they're stinky and gone," the actress, who recently published a memoir, said.
******Some regrets are like vagina candles… they burn until they explode!!!
******When she says regrets are like farts.. is she hinting around about what we're going see in this footage??
*******Tragically, it's being released at a time when people can stop motion and manipulate images!!
*******This could result in a epidemic of "tunnel vision!!"
Prince Charles has given a video message of support to an Australian charity with just a single photo of his mother, eldest son and eldest grandchild behind him amid growing concerns about Prince Harry's brutal criticism of his upbringing and his 'pot-shots' at the Royal Family from LA.  He has been seen throughout the pandemic on video calls from his offices at Highgrove or Birkhall with an array of family photos behind him, including of the Duke and Duchess of Sussex and their son Archie.  But yesterday he spoke to the Australian Institute of Superannuation Trustees conference in Adelaide, with just a single framed photo of himself with the Queen, Prince William and Prince George – the line of succession to the throne.  It came as Harry again hinted he was ready to pour his heart out again about his mother Diana's death and his  relationship with his father in an emotional trailer for a new mental health documentary for Apple, due for release on Friday. The Duke of Sussex also appeared to question his father's parenting in a podcast last week.
*********It simply ISN'T DONE!!!!
*******When criticizing your own parents, you should remember: YOUR kids will get their turn, as well!!
******Harry's advice to other mental health sufferers: leave your family behind, buy a mansion in California, and get a $150 million deal with Netflix!!!
Ripping The Tabloids (Throughout the week, we'll give you the stories from that weeks tabs!)
**Please Credit Publication!
Middleditch Ditches Marriage To Mollie!-(Enquirer)
Hit "delete" on "Silicon Valley" star Thomas Middleditch's marriage to Mollie Gates.  The pair have finalized their divorce a year after filing.  The actor, 39, was ordered to pay $2.6 million to the costume designer, 33, in payments through December 2022.  She won't receive spousal support but will keep possessions she owned before they wed in 2015.  Thomas will keep four residences.
Meet the "Flintstones!"  Banks Becomes Pebbles-(Globe)
Yabba dabba doo!  "Hunger Games" star Elizabeth Banks is ready to rock some prehistoric "Flintstones"-style fun and games, with a twist.  The 47-year-old actress is producing "Bedrock," an animated sequel that takes place 20 years after the iconic '60s cartoon series left off.  She'll also be voicing the ever-adorable Pebbles, Fred and Wilma's baby daughter, who'll be all grown up.  Hope we'll get to also find out what happened to Betty and Barney Rubble, and of course, their cute lil bundle of joy, Bam Bam!
Kaia & Jacob:  Family Approved-(Us Weekly)
Young and in love!  After more than seven months of dating, Kaia Gerber and Jacob Elordi "are enjoying being a coupe and want to experience life together," a source says.  Fortunately, Cindy Crawford and Rande Gerber are all for it.  They "adore" the actor, 23, says the source, and "think he's a great match" for their daughter, 19.  "It's crazy how much Kaia and Jacob have in common," adds the source.  "It's like the universe brought them together."
Messy Exs:  Gigi Hadid & Zayn Malik-(Star)
The man Taylor Swift once called "Mr. Casually Cruel" can dish it out but can't take it.  Joe Jonas lusted after Gigi from the time they met (he was 19 and she was, um, 13!), but the two didn't actually date for six more years.  When the relationship fizzled, he was peeved to see her hook up with Zayn.  Like an irate tween, the boy bander deleted a pic of himself with the One Directioner, then threw in a bit of shade for good measure.  "I think it's interesting that she moved on so quickly," he said in an interview.  "I mean, it was definitely quick."  Gigi and Zayne welcomed their daughter Khai in September.
Say What?!-(Life & Style)
"I would love to be a good singer; I would be a great good singer.  My bad singing is so full of depth and passion, you have no idea what a good bad singer I am."-Sharon Stone, on the talent she most wishes to possess.
"He's the nicest man on earth, and I find that threatening.  As a Canadian, I find that threatening.  He makes ice cream look like murder!  That's how nice Hugh Jackman is."-Ryan Reynolds, kidding that he "can't stomach" the Les Miserables star.
"My name is Kesha…Keh-shuh, not Keisha, not Ketchup.  Kesha."-Kesha, clarifying the right way to say her moniker.
"I don't support their marriage.  She's so cool and he's not."-Adam Levine, joking about his intent to "object" during the wedding of pals Gwen Stefani and Blake Shelton.
Babies-(People)
Boy Meets World star Danielle Fishel marked her 40th birthday by announcing she's expecting her send son with husband Jensen Karp, 41.  He'll join big brother Adler, who turns 2 in June.  "I've never been more excited or hopeful for the next decade of my life," she wrote.
Country star Thomas Rhett and wife Lauren Akins, both 31, announced they're expecting their fourth daughter in November.
Loser of the Week-(In Touch)
Kate Hudson
The star's Fabletics line is forced to stop production at their main supply facility in Lesotho amid allegations of employee abuse.
STUPID NEWS
Cat Takes 80 Mile Uber Ride
A kitten rescued from traffic by a Florida woman ended up taking an 80-mile ride in an Uber to an animal rescue facility.  Kylie Gross said she was on her way to work in Hialeah, just outside of Miami, when she spotted a tiny kitten weaving through traffic.  Gross, a nurse practitioner, said she was able to get the kitten into her car, but when she arrived at the clinic where she administers COVID-19 vaccines, the feline had vanished into the steering column.  "When I got to work, I couldn't get her out of the car," Gross told WPBF-TV. "I had no idea where she was. I could just hear her meowing."  Gross elicited help from police and firefighters stationed at the clinic to help lure the kitten out of its hiding place, but she was then faced with the problem of where to take the feline.  Gross said she couldn't take the kitten home, because her dog is not cat friendly, and multiple local shelters told her they had no room for the animal.  She said she learned that the Furry Friends Rescue in Jupiter could take the kitten in, but she had to work and couldn't take the kitten for the approximately 80-mile drive.  "So, I called the cat an Uber," Gross said. "I use Uber. So why not rescue a kitten using Uber?"  Uber driver Jose Jimenez said the hourlong drive was his first acting as a feline shuttle service.  Gross said her Uber bill for the ride came to $160.
********This is when you have to check your priorities!!!
*****The bill was cat-as-trophic!!!
********Right now, the kitten is going, "Thanks! I think…."
Satan's Lottery Ticket
The North Carolina Education Lottery said 7,998 Pick 3 tickets purchased with the seemingly ominous number combination 6-6-6 won top prizes.  Lottery officials said the numbers 6-6-6 came up in Wednesday evening's Carolina Pick 3 drawing, causing 7,998 tickets to win a total $3.2 million in prizes.  The top prize for a 50-cent ticket is $250, while the top prize for a $1 ticket is $500, lottery officials said.  Lottery officials said triple digit combinations, known as "trips," are common choices for Carolina Pick 3 players.
********Let's just say they won a "hell" of a lot of money!!!
*****We prefer the combo "667." That's the neighbor of the beast!!
*******Someone named "B. Elzebub" was the big winner!!!!
Parrot Rescued From Window Ledge
Firefighters in Chicago rescued an escaped pet parrot spotted perching precariously on a building's window ledge.  A crew returning to their station from an EMS call in the city's downtown area was flagged down by a member of the public seeking help getting a pet parrot down from a window ledge.  A witness recorded video of a firefighter using a pole to reach the bird on the ledge.  A crowd of onlookers was seen cheering as the parrot was brought back to the ground and reunited with its owner.
*******UH… the parrot couldn't FLY?? Everything is dysfunctional now!!
*****The parrot needs an "emotional support sparrow!!"
*****He was just sitting there, looking like he lost his pirate!!!
Snake Found In Squat Toilet
Workers at a coffee shop in Singapore received a scare when they went to investigate a noise in the bathroom and found a large snake slithering in a toilet.  The two employees at the coffee shop in Kranji were working overnight Saturday to prepare for COVID-19 safety measures scheduled to take effect Sunday when they were drawn to the bathroom by a noise.  The two investigated to find a large python slithering around in a squat toilet. One of the workers captured video of the serpent exploring its surroundings after exiting the commode.  The workers called for assistance, but the python had vanished by the time authorities arrived.  Experts said the snake is a common python that is nonvenomous and unlikely to pose any danger to humans.
********Come to think of it, why can't SNAKES get the COVID???
*******When you've got a toilet, sooner or later there's gonna be a snake in it!!!
STUFF THAT'S COOL AND VIRAL
VIDEO: CAT SAYS "I LOVE YOU"
VIDEO: HOW TO GIVE YOUR CAT A BATH.
A LIST FOR WEDNESDAY
Don't Throw Away These 7 Things. You Can Recycle Them for Money
The Penny Hoarder
Scrap Metal
Scrap metal is one of the more profitable materials to recycle.
Copper, steel and aluminum are just a few of the scrap metals that you can recycle for money. Google your local area and "scrap yard" to find a facility that takes whatever metals you have and learn their procedures for drop off.
Once you have rounded up your metal, find out if it is ferrous or non-ferrous by seeing if a magnet sticks to it. If it does, the metal is ferrous and likely a common metal like steel or iron. These items typically aren't worth much, but it's still worthwhile to recycle them. If the magnet does not stick, you likely have copper, aluminum, brass, bronze or stainless steel on your hands. These metals are more valuable.
Copper is one of the more profitable metals: Copper wire and tubing yields between $1 and $3 per pound. Aluminum typically earns between 40 and 70 cents a pound, yellow brass can yield about $1.50 per pound, and die-cast metal goes in the 30-cents-a-pound range, though local prices vary.
Bottles and Cans
One Penny Hoarder writer made $1,500 cashing in soda cans he collected at work. You, too, can make money by rounding up bottles and cans, whether from work, friends and family, at events, or just the recyclables you use at home.
California offers 5 cents for most plastic and glass bottles and aluminum cans smaller than 24 ounces, and 10 cents for 24-ounce or larger containers. It's technically a bottle deposit, but many people don't bother to collect their refunds, so it's easy money for bottle and can collectors.
Michigan has a 10-cents per bottle recycling rate, which has prompted people to illegally smuggle in empty bottles purchased out of state to cash in. (This was even the plot of one Seinfeld episode!) Many states have similar deposit programs, so check what's available where you live.
Car Batteries
Advance Auto Parts offers a $10 store gift card to customers who bring in their used car batteries (light-duty truck batteries are also accepted). If the company doesn't have an outlet near you, call your local auto parts stores to see whether they offer similar deals.
Ink Cartridges
A number of office supply stores, including Staples and Office Depot accept used ink cartridges for recycling. Staples offers $2 back per cartridge, with a maximum of 10 returns per month, and you have to spend at least $30 on ink or toner within 180 days of recycling.
Office Depot also gives you $2 back in program rewards for each ink or toner cartridge you recycle, up to 10 cartridges per month. But you must also purchase ink from them the same month. There is no limit on the number of cartridges you can recycle, but you will only receive points on the first 10 per month. You can use your points toward a number of different perks and discounts.
Electronics
Eco-Cell is one of many companies that offers cash for old cell phones and other electronics. The company accepts working or broken phones, tablets, rechargeable batteries, circuit boards and a variety of other electronics. Even if an item is broken or was submerged in water and is unusable, Eco-Cell will accept it in order to divert electronics from landfills and properly dispose of their toxic components and metals.
Many cell phone providers, including Verizon and AT&T, have trade-in programs where you can receive a voucher, gift card or other reward for turning in your old phone. Amazon Trade-in is another way to earn gift cards.
A number of charities also accept cell phones, whether to re-purpose or sell and use the funds for a charitable purpose. Cell Phones for Soldiers refurbishes and sells your old phone to active-duty military members and veterans. If a phone is too old or broken, Cell Phones for Soldiers sells it to recyclers who strip it for parts and dispose of its metals responsibly. The proceeds from the sales go to purchase international calling cards for troops and provide emergency financial assistance to veterans.
And of course, you can always sell your old phone yourself.
Junk Cars
Your rusted old jalopy? You can recycle it for money. There are companies that pay cash for broken down cars.
Junk Car Medics is one, and you can sell your car to them online or over the phone. You enter details about your vehicle, such as condition and mileage, and quickly get an offer. If you accept it, you'll have to provide proof of ownership and a few other details before you get paid. The company says most transactions are same-day, and they take the car away for you.
The Rest of Your Unwanted Stuff
You can "recycle" belongings you no longer want on a variety of apps and platforms and get a little something back for them. ThredUp and Poshmark are popular apps where you can sell clothes online.
ThredUp will send you a free shipping label and apply credits for anything that sells to your own account, but it's often not a lot of money. Poshmark offers bigger potential payouts, but you have to put in more work to make your items move.
OfferUp is a second-hand site where you can buy or sell just about anything you no longer use.
The preceding material was compiled and edited by Brandon Castillo.  The Editor-In-Chief is Gary Bryan.  The Radio Genius Show Prep Service is licensed for use on-air only by subscribing radio stations.  Other means of redistribution is forbidden.
© 2020 – Radio Genius Show Prep